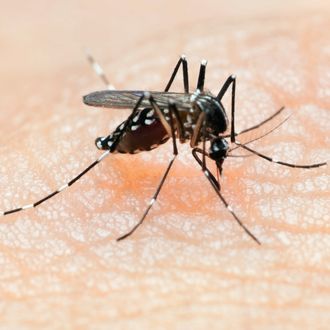 Photo: Flu by Dust/Getty Images
The United States confirmed its first Zika death on Friday. According to the CDC, a 70-something man who died in Puerto Rico in late February was killed by complications related to the virus. But don't start panicking: His situation (like Zika deaths in general) was described as "rare."
From the Washington Post:
The man died from internal bleeding resulting from a rare immune reaction to his Zika infection. The agency issued a report Friday on the growing Zika transmission in Puerto Rico. It said the patient died after developing severe thrombocytopenia, or low levels of platelets that help blood clot. The report provided no details … The condition, known as ITP, immune thrombocytopenic purpura, has also been associated with other infectious diseases, [the CDC] said.
CDC epidemiologist Tyler Sharp said that while the vast majority of people infected with Zika won't die from it, the news out of Puerto Rico should serve as a reminder to do everything possible to avoid mosquito bites in places where the virus is present. Puerto Rico currently has 6,000 confirmed cases of Zika, and officials say that the number could rise to as much as 700,000 by the end of the year, so don't scrimp on the bug spray and turtlenecks if you're headed to the island anytime soon.