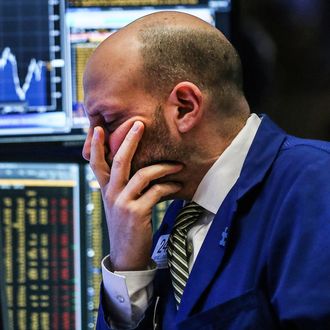 This economy.
Photo: Spencer Platt/Getty Images
The U.S. economy started the new year with a bad hangover: During the first quarter of 2016, the economy expanded at its slowest pace in two years, as consumers pinched their pennies, companies scaled back investment, and a strong dollar suffocated exports. But don't liquidate your bank account and bury your cash in the yard just yet — signs of strength in the labor market suggest this sleepy economy is due for a spring awakening.
Let's start with the bad news. America's gross domestic product expanded at a mere 0.5 percent annualized rate in the first quarter, down from 1.4 percent in the final three months of 2015, according to newly released data from the Commerce Department. Household spending, which accounts for roughly 70 percent of the economy, rose 1.9 percent in the year's opening quarter, down from 2.4 percent the quarter before. As Bloomberg notes, that slowdown is particularly disappointing in light of the cheap gas, low interest rates, and warmer-than-usual weather that provided consumers a friendly environment for buying stuff they don't need. Alas, Americans pocketed their savings at the pump or else used them to pay off debts: Household savings rose to $712 billion, up from $678 billion in December.
Meanwhile, cheap oil weighed heavily on business investment, as the energy sector saw an 86 percent annualized drop in capital spending on wells and shafts, the sharpest such decline since 1958. Other industries also hoarded their cash amid weak overseas demand and tepid price growth at home. Altogether, business investment fell at a 5.9 percent annualized rate, the steepest drop since early 2009.
Trade further sapped growth, draining a third of a percentage point from GDP, as the strong dollar and weak foreign demand hurt exports.
While it's possible that these are the first signs of a looming recession that will propel Donald Trump to the Oval Office and America to its untimely death, there are several reasons to be bullish about the economy's near-term prospects.
First, filings for unemployment benefits — a key indicator of job-market weakness — held near its four-decade low last week. In other words, very few people are getting fired these days. Second, disposable income increased 2.9 percent in the first quarter, up from 2.3 percent at the end of 2015. American consumers have jobs, declining debt, and mounting savings, all of which suggests they're due for spring shopping sprees.
Finally, there's probably something wrong with the Commerce Department's seasonal adjustment method — the formula it uses to strip out the effect of seasonal spending patterns. Growth has underperformed expectations in the first quarter for five of the last six years. In 2015, GDP rose 0.6 percent before bouncing up 3.9 percent in the second quarter; in 2014, the economy contracted by 0.9 percent before growing 3.6 percent in the spring.