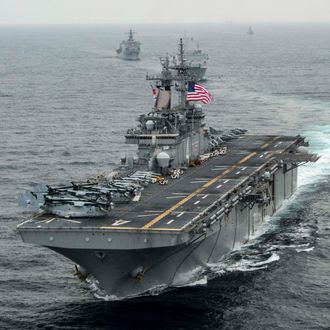 Photo: Handout/2016 US Navy
A U.S. Navy officer working in intelligence gathering has been charged with multiple counts of espionage including communicating secret information and passing secrets to a foreign government, Reuters reports.
If it turns out Lieutenant Commander Edward Lin is a spy, it sounds like he was a good one. Lin, who was born in Taiwan but became a naturalized U.S. citizen when he moved to America with his family at 14, worked his way up the ranks of the U.S. Navy where he ultimately put his fluent Mandarin to good use working in the Patrol and Reconnaissance Group, which oversees intelligence gathering.
Although the nature of his alleged crimes is still unclear, Lin has been charged with two counts of espionage, three counts of attempted espionage, and five counts of communicating defense information. It's also unclear which country he was passing secrets to, if in fact he was passing secrets, although multiple sources suggest it was China.
He's also been charged with adultery and engaging in prostitution, because apparently that's something the Navy can charge you with. Unsurprisingly, both the Chinese and Taiwanese governments have declined to comment on Lin's case.