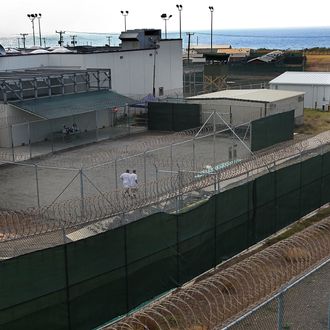 Getting emptier, but still a long way to go.
Photo: John Moore/Getty Images
The U.S. detainee count at Guantanamo Bay is down to 80 after 9 Yemeni men were released into the custody of Saudi Arabia on Saturday, Reuters reports. The population at the detention facility is now the lowest it has been in 14 years as the Obama administration continues to try and close the prison and fulfill one of the president's inaugural promises.
As the Guardian highlights, there are now more low-level detainees approved for release (26) than there are so-called "forever detainees" (22), whom the U.S. will likely never let go. Those prisoners would likely have to be transferred to the U.S., something U.S. law forbids and the Republican majority in Congress is extremely unlikely to allow anytime soon, though whether Obama will attempt to move prisoners using executive action before the end of his presidency remains to be seen. Obama has promised to move all low-level detainees out of the prison to other countries by this summer. Thirty-two detainees are still stalled at some stage of the military tribunal process.
The nine Yemeni men had been cleared for release years ago, but the political disintegration of their home country prevented them from being repatriated there. Among them was Tariq Ba Odah, who reportedly only weighs 75 pounds and has become critically ill after persistent hunger strikes at the facility. He has been force-fed daily since 2007. Like most of the detainees at Guantanamo, he was never charged with a crime.
Though the White House insists it's a coincidence, the acceptance of the prisoners by Saudi Arabia comes a week before President Obama is set to travel there for a diplomatic visit. Saudi Arabia is also in the news this weekend after, according to the New York Times, threatening to abandon all of its billions of dollars in U.S. holdings if a piece of proposed legislation, which would allow the Saudi government to be held liable for any role it may have played in the 9/11 attacks, is passed in Congress. (The White House opposes the bill and has been lobbying against it.)