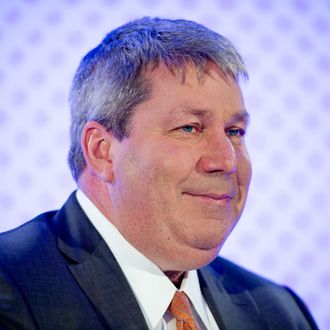 Pearson "regrets" price gouging.
Photo: Kevin Van Paassen/Bloomberg via Getty Images
J. Michael Pearson, ex-CEO of Valeant Pharmaceuticals, would like the Senate to know he has made some mistakes. As head of Valeant, Pearson made enormous profits through a combination of corporate inversion, swindling investors, and jacking up the prices of decades-old drugs in such a way that forced insurance companies to foot the bill.
Among other things, the company increased the price of Isuprel — a blood-pressure medication — by 720 percent and the price of Nitropress from $214 to $880. But in prepared testimony before the Senate Special Committee on Aging, Pearson said he regrets his actions, Reuters reports.
"The company was too aggressive — and I, as its leader, was too aggressive — in pursuing price increases on certain drugs," Pearson said. "In hindsight I regret pursuing transactions where a central premise was a planned increase in the prices of the medicines." 
Pearson went on to say that he regrets the acquisition of both Isuprel and Nitropress from Marathon Pharmaceuticals, a separate company, in 2015: "We should have abandoned the transaction with Marathon when it became clear that the expected arrival of generic competition made the economics of the deal dependent on significant price increases," he said.
His testimony comes as Valeant is facing multiple investigations into its drug pricing and accounting practices by U.S. prosecutors. The company is also about $30 billion in debt, its stock is down 90 percent, and its earnings releases have been delayed as it struggles to factor in just how much money it lost in 2016.
Pearson recently stepped down as CEO to make way for Joseph Papa, who Pearson assured the Senate will "no longer be seeking to acquire mispriced drugs," which seems like a step forward.