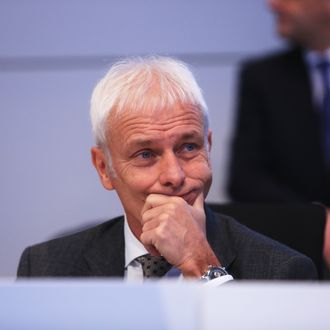 Volkswagen's new CEO, Matthias Mueller, thinking about all the money he's losing.
Photo: Krisztian Bocsi/© 2016 Bloomberg Finance LP
Volkswagen's eight-month-old emissions scandal might finally be drawing to an end. After the automaker revealed it had rigged at least 11 million vehicles to pass emissions tests, the company attempted to make things up to consumers by showering them with vouchers and gift cards. That plan didn't work so well, but now the company has reached a framework deal with U.S. officials in which it will offer to buy back up to 500,000 diesel vehicles sold in the United States that exceed legal emission levels, Reuters reports.
The buyback includes a compensation fund for car owners, who might feel ripped off now that they know their cars are routinely destroying the ozone. The total compensation fund is estimated to be around $1 billion, although it's not yet clear how much each owner would receive. They'll be paid either to fix their vehicles (although the EPA has yet to approve Volkswagen's proposed solution), or they'll receive a cash payment on top of the estimated value of the car. If the deal is approved, owners would have about two years to decide which course of action to take. 
Although the deal isn't final, and some details might change, Reuters says it could also include an "environmental remediation fund" to go toward repairing the damage caused by excess pollution since 2009. Volkswagen's stock rose nearly 6 percent after news of the deal was released.
According to Bloomberg Businessweek the company has set aside $10 billion to resolve civil claims by the U.S. government and lawsuits by American car owners, but a Bloomberg analyst suggests civil violations in the U.S. alone could cost Volkswagen more than $42 billion while buying back every single car in the U.S. would be about $9.4 billion.
Unsurprisingly, the company has yet to release its 2015 earnings because it doesn't yet know how much the scandal will cost. But reaching a deal with U.S. officials is an important step toward regaining customers' trust and ensuring Leonardo DiCaprio's movie has a happy ending.