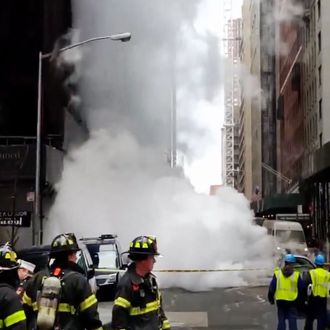 The scene in midtown earlier today.
Photo: @eteran84/Twitter
A water-main break on West 58th Street caused a huge cloud of steam to form in midtown this morning. According to Con Ed, the water from the break on 58th between Sixth and Seventh Avenues was hitting a hot steam pipe, which caused the plume to form, even though the steam pipe itself didn't break. Emergency responders rushed to the scene at 9:39 this morning, and an FDNY spokesperson said that the incident was placed under control shortly before 11 a.m. According to the Daily News, no injuries were reported.
Images of the scene were captured by social-media users: