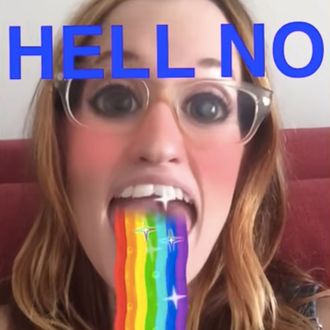 If all you've been using Snapchat for is sending your friends selfies using the "pretty" filter, you've been using the app all wrong. Instead, you could (should) film your very own low-budget music video, complete with all the rainbow vomit and panda masks your little heart desires.
Which is exactly what singer Ingrid Michaelson (whom you might know as the artist behind 2007's catchiest Old Navy sweater commercial) did with her latest single "Hell No."
It's also a pretty brilliant strategy. The video, which Michaelson says took her four weeks to film, likely cost very little to make and I've already watched it six times. (Full disclosure: I am a comically big Michaelson fan, so this might be a skewed statistic.)
Still, cheap is good, since Michaelson couldn't even afford her own Snapchat geotag.