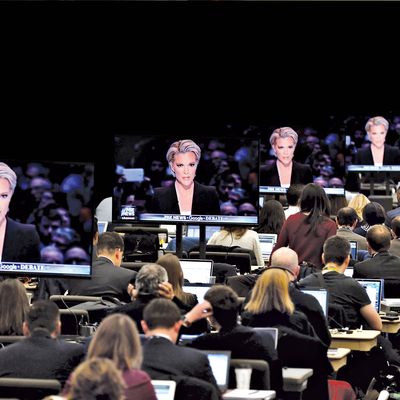 Megyn Kelly at the Republican debate on January 28.
Photo: Joe Raedle/Getty Images
On the morning of April 13, Megyn Kelly slipped into Trump Tower for a meeting with Donald Trump. The Fox News star was there to make peace and a pitch: She wanted Trump to end his personal attacks on her and agree to appear on a Barbara Walters–style special that Kelly is hosting next month. She arranged the private sit-down herself. She told Trump that not even her boss Roger Ailes knew she was there, according to a source familiar with the meeting. After a reporter spotted her entering the building, news of a possible détente in the Trump-Kelly war boomeranged around the internet, and both CNN and MSNBC devoted breathless segments to the story. Fox executives, caught off guard by Kelly's clandestine outreach, released a statement suggesting this was all according to plan: Ailes had spoken to Trump "a few times over the past three months," it noted, implying that he had helped her get the meeting. Later that night, Kelly confirmed on her show that she and Trump discussed the possibility of an interview. She made no mention of Ailes. "The meeting was at my request," Kelly said.
If Kelly did indeed go rogue on the Trump meeting, it says a lot about her relationship with her employer — and about her employer's relationship with the GOP front-runner. Ever since she tangled with Trump in front of the 24 million viewers watching the debut GOP debate last summer — a performance that transformed her in the eyes of many into a fearless interviewer and feminist symbol — Kelly has become Ailes's biggest star, and biggest management headache. Meanwhile, Trump's attacks on Fox have badly damaged its credibility with its core right-wing audience. (A February poll reported that Fox's standing with Republicans had plummeted by 50 percent since the beginning of the year.)
Trump has engaged in an on-again-off-again feud with the network since September, refusing to appear one-on-one with Kelly for eight months, so a Kelly-Trump interview would undoubtedly draw big ratings. Presumably, Kelly went off on her own because she wants to claim credit for the booking. "She did it to prove she doesn't need Ailes to make things happen for her," a high-level source said. Or perhaps she is taking a page from Trump himself and operating as if her own brand were bigger than Fox's.
Since she became the breakout star of this election cycle, Kelly has beaten Bill O'Reilly in the ratings, graced the cover of Vanity Fair, and been interviewed by Katie Couric at Tina Brown's Women in the World Summit. In early April, Hillary Clinton called her a "superb journalist." This publicity tour makes it clear that she is about to attempt a feat that no other Fox personality has yet accomplished: successfully crossing over into the mainstream. Kelly is in the final year of her Fox contract and will be weighing offers from Fox and rival networks. But it will be no small task to go up against Ailes, a ruthless boss who has treated Fox anchors who play hardball like traitors. When Paula Zahn left Fox for CNN in 2001, he famously told the Times he could get better ratings with a "dead raccoon." Zahn's career never recovered.
Kelly isn't acting like she's scared of Ailes. Although her contract prevents her from formally discussing outside offers, she's been negotiating in public like the corporate lawyer she was in her pre-Fox life. "I don't know what's going to happen," she told Variety earlier this month. "I've had a great 12 years here, and I really like working for Roger Ailes. I really like my show … But you know, there's a lot of brain damage that comes from the job. There was probably less brain damage when I worked in the afternoon. I was less well known. I had far less conflict in my life." When asked by Charlie Rose recently to envision the "perfect television show," Kelly gave an answer that sounded nothing like the shoutfests on Fox News. "How about if we merge a little Charlie Rose, a little Oprah, and a little me all together. And we serve that up as an hour? Wouldn't you watch that?"
In many ways, Kelly is like a presidential candidate who's won the primary and now must pivot to the general election, expanding her support without losing her base. But it won't be easy. Every day, Fox's anchors preach the evils of the biased, liberal, mainstream media. And Kelly has proudly played Ailes's game of racial and resentment politics on-air. During one two-week stretch in 2010, her show aired 45 segments on the bogus New Black Panther scandal. In 2013, she caused controversy by declaring, "For all you kids watching at home: Santa just is white."
Still, it is conceivable that every major network with a news division will make a play for her. CNN chief Jeff Zucker tried in the past to hire her. So did NBC News. ABC's Ben Sherwood is said to be a superfan. In fact, media executives say Sherwood is likely to make the most aggressive pitch. Kelly could shore up struggling Good Morning America, and ABC could offer her regular prime-time specials.
As much as Kelly seems to signal her willingness to leave Fox, executives say Ailes will likely make an offer that will be difficult to refuse. Sources speculate that Fox could pay her $20 million a year (or more) to stay, which would set a cable-news record (O'Reilly, the reigning king, reportedly makes north of $15 million). One sign of how keen Fox is to retain her is the reported $5 million book deal HarperCollins, Rupert Murdoch's book publisher, extended to Kelly to write a memoir this fall.
Ultimately, Fox can't afford to lose her. Fox's lineup is more in flux than it has been in years. According to sources, Sean Hannity is the only prime-time personality who has recently reupped for another term. O'Reilly, who turns 67 this year, has yet to commit. If Ailes were to lose Kelly and O'Reilly, Fox's evening schedule — the source of most of its advertising revenue — would collapse. "There's not much of a bench," one veteran Fox executive says. And CNN is already nipping at Fox's lead in the key advertising demographic of 25-to 54-year-olds (though Fox still has more total viewers).
This is all happening when Ailes, who turns 76 next month, is ailing. A source said the Fox CEO, who suffers from hemophilia and debilitating arthritis, was recently out of the office for several weeks recovering from back surgery; he also took an extended health leave in 2014. With Murdoch having passed the management of Fox's parent company to his sons James and Lachlan, neither of whom is close with Ailes, it's possible they could install fresh leadership and reposition Fox as a less ideological network when Ailes's contract expires, reportedly in 2018. This would make Kelly's centrist appeal even more valuable. (Ailes, through spokesperson Irena Briganti, did not respond to requests for comment.)
But money may not be the central factor in Kelly's decision-making calculus. She could decide to take less money if it meant getting out of a place that's become less and less hospitable to her. She's said to have been upset that Ailes was slow to forcefully defend her after Trump's initial assault when Fox executives were deluged with emails from his supporters. And her relationship with O'Reilly has deteriorated over their ratings rivalry and O'Reilly's coziness with Trump. Kelly recently told More magazine she was hurt that O'Reilly allowed Trump to attack her uninterrupted on his show. "I would have defended him more," Kelly said. Last September, Kelly left her agent Carole Cooper, whom she shared with O'Reilly, because she and O'Reilly were at odds. (It will be up to Kelly's new Los Angeles–based agent, Matt DelPiano at CAA, to guide her through the upcoming negotiations. "She has no offers," DelPiano told me. "She has a contract with Fox News; she can't talk to people.")
Meanwhile, tensions at Fox are only getting worse. Two sources told me that a senior Fox executive instructed on-air talent not to defend Kelly against Trump's attacks. Kelly seems up for the battle. Or any battle. On the day of her Trump meeting, she conducted a testy interview with Al Sharpton. At one point in their exchange, Sharpton told her to "calm down."
"Now, watch it with 'calm down,' " Kelly shot back. "Ask Bill O'Reilly about that. I had to lecture him on that one."
*This article appears in the April 18, 2016 issue of New York Magazine.