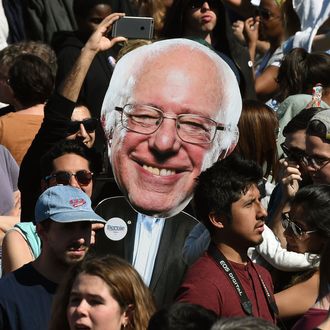 It's too late for the Sanders campaign to do anything about the exclusion of independents from today's New York primary. But there are some opportunities ahead.
Photo: Timothy A. Clary/AFP/Getty Images
There's been plenty of bellyaching by the Bernie Sanders campaign about New York's closed primary system and, worse yet, its wildly retroactive deadlines for changing one's party affiliation to qualify as a primary voter (its six-months-prior-to-the-primary deadline is the most restrictive in the country, according to an analysis by FiveThirtyEight's Leah Libresco).
A look ahead on the calendar shows a mixed bag of rules for the remaining primaries.
After Tuesday night's results come in, the campaigns will immediately focus on the five states that hold primaries on April 26. Connecticut, Delaware, Maryland, and Pennsylvania are closed primaries in which the deadlines for reregistering to change party affiliations have already passed. "Semi-closed" Rhode Island alone allows "unaffiliated" voters to participate in the party primary of their choice. 
On May 3, Indiana, one of the relatively few non-southern states with no party registration at all, will hold its primary. A week later, West Virginia, another "semi-closed" primary state, will vote, which means independents can participate in either party's primary. 
On May 17, two more closed primary states, Kentucky and Oregon, will vote. Kentucky closed off reregistration to change party affiliation in January. Oregonians still have one more week (until April 26) to register or reregister. Oregon, it should be noted, also has an all-mail-voting system, which encourages earlier participation and makes last-minute reregistration drives more difficult.
The last big batch of primaries is on June 7.  Montana will have a true open primary. North Dakota's caucuses will be wide open, in that the state has no voter-registration system at all. New Jersey will allow independents to vote in its Democratic primary, but the deadline's already passed for Republicans to re-affiliate. New Mexico has a closed primary, and the deadline for reregistration to change party affiliation is on May 10. 
Then there's California, the biggest prize of all, with 475 pledged delegates up for grabs. The Golden State's Democratic (but not Republican) primary is open to unaffiliated voters, and all voters have until May 23 to change their party affiliation. But as a recent analysis by the Los Angeles Times shows, a significant number (probably over 300,000) of independents have mistakenly registered not as "no party preference" voters, as they should have, but instead as members of the American Independent Party, the ancient right-wing party that began as a vehicle for George Wallace's 1968 presidential effort. 
Since California will offer Bernie Sanders his last chance to cut Hillary Clinton's pledged delegates lead and impress superdelegates, I believe his people should devote as much time as possible to contacting every registered AIP voter in California and finding out if they are actually somewhere to the right of Jimmy Dean sausage or are instead feeling the Bern and need to get themselves reregistered. They have just over a month to make this happen.