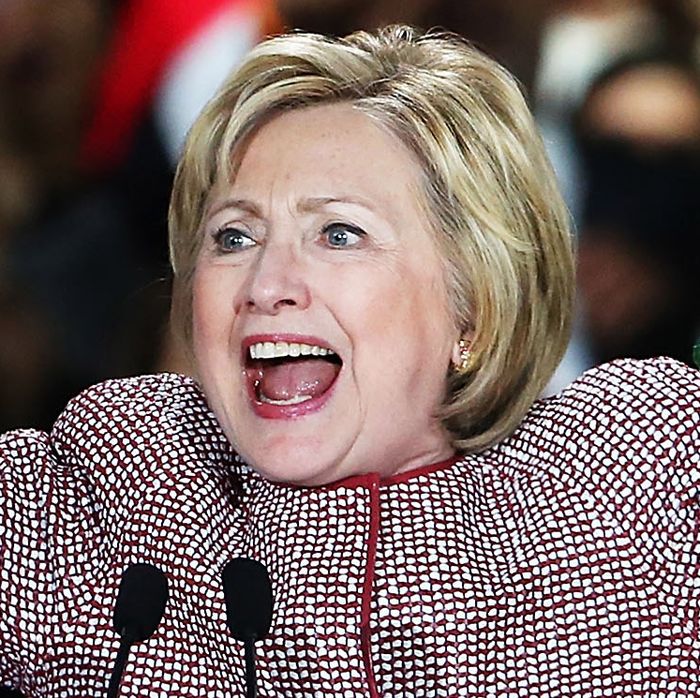 Clinton after her New York victory.
Photo: Spencer Platt/Getty Images
Most weeks, New York Magazine writer-at-large Frank Rich speaks with contributor Alex Carp about the biggest stories in politics and culture. This week: Clinton and Trump's New York victories, and whether the GOP convention needs a little more "showbiz."
With Bernie Sanders's loss to Hillary Clinton in New York, many campaign watchers are expecting renewed calls for Sanders to drop out. Is Sanders right to ignore them?
In the aftermath of this rout, the chances of Sanders winning the Democratic nomination are so small that some in his camp are now pinning their hopes on winning over superdelegates. Or on pulling off a miracle in multiple ballots at a contested convention, Republican style. That's not happening. If Sanders's presidential bid is not over already, the nails in the coffin are likely to be hammered in next week in Pennsylvania, Connecticut, Maryland, Delaware, and Rhode Island. So why should he stay in? One reason: to help prepare and toughen up Hillary Clinton for what's to come in a general election that may well not be the cakewalk so many Democrats seem to be taking as a fait accompli.
Clinton's landslide in her adopted home state of New York was overwhelming. But it doesn't mask the fact that many voters find her untrustworthy, as reflected in her sliding national poll numbers. In the latest Wall Street Journal–NBC News poll, Sanders has moved within two points of her nationally. That's meaningless in terms of the overall horse race between them, but beneath that umbrella number are other findings that show her negative numbers on the rise among the overall electorate — not to Trump levels, but grim by any other standard. Even her approval ratings among both black and Latino voters have slid decisively since the start of the year. Of course she is going to win those groups overwhelmingly in November. But if their turnout is depressed because of a lack of enthusiasm, that's a problem, particularly given her poor numbers among young Democratic voters who may be tempted to stay home with neither Barack Obama nor Bernie on the ballot, and her poor standing among white voters in general. Bill McInturff, a Republican pollster who co-runs the WSJ-NBC poll with the Democrat Peter Hart, calculates that Clinton's "favorability" rating among whites is lower than Obama's has ever been. That's saying something.
A coronation may be what the Clinton campaign now wants, but I'd suggest that Clinton has more to gain by staying in a dialogue, a debate, with Sanders, and ultimately forging some kind of communion with him and, more important, his voters, in real time. She will need every one of them in November. Indeed, I'd argue that if Sanders continues to be as strident and harsh as he was during the New York primary campaign, that is also to Clinton's benefit — as long as she refuses to rise to the bait and instead presents herself as an upbeat counterpart to both him and Trump. Sanders pulling out now, or soon, would deny her that opportunity, allow Trump to monopolize the national stage all spring, and reinforce exactly the sense of entitlement Clinton needs to avoid if she is to start to reclaim a positive public image.
Another primary, another Trump victory. Did yesterday's New York results change anything for the GOP?
Yes. According to the Associated Press calculation, it's now mathematically impossible for Ted Cruz to win the nomination on the first ballot: He is 678 short of the magic number of 1,237 with just 674 delegates still up for grabs. His third-place showing in New York, whatever excuses he wants to make for it, reinforces the notion that he only appeals to the far right and Evangelicals. He is likely to perform badly in next week's new round of East Coast primaries. He is unlikely to somehow make a miraculous June comeback in California (as his camp claims); he's down nine points to Trump in the RealClearPolitics poll average there, and Trumpmentum may start to widen that gap. Cruz's role now is as a spoiler — to deny Trump a first-ballot victory in Cleveland, theoretically an achievable goal in league with unattached delegates and those attached to Marco Rubio and John Kasich. But it's a Pyrrhic victory if achieved.
Trump is going to go to Cleveland with the most delegates, period. The number may fall short of 1,237 but probably not wildly short. Is the GOP really going to deny the nomination to the guy who will be favored not only in the delegate count but continues to lead national polls among its own voters? And do so by giving the nomination either to Cruz, who is loathed by many party leaders at least as much as (if not more than) Trump is, or to some "white knight" who failed in the primary or didn't run at all? Certainly such scenarios can happen, but at a huge price: It's hard to see how a party can survive if its rules allow it to reject the candidate who, like it or not, is actually the favorite — indeed, the overwhelming favorite — of its own base.
In his latest jab at the RNC, Donald Trump has said that this year's convention should have more "showbiz," and lamented the party's decision not to run an Apprentice-style video he made for Mitt Romney in Tampa four years ago. Would making the convention into a reality show help Trump with delegates?
First, let me say how much I would like to see that video! Second, Trump does have a point about political conventions of both parties in our era: They are infomercials of surpassing tedium and, the acceptance speech aside, there is no reason to watch them. It's not for nothing that the broadcasting networks have increasingly scaled down their coverage.
But not this year — at least for the Republicans. Usually the convention program is entirely controlled by the presumptive nominee. If the GOP arrives in Cleveland with the race unsettled, that means the Republican National Committee will be in charge. Good luck with that! As Reince Priebus and his fellow party potentates have demonstrated just about every day since the Romney defeat in 2012, they are incapable of sowing anything except chaos, and are impotent in thwarting Trump. So there will be battles over every single detail of the four-day show on top of the political battle for the nomination itself. As I've said before, this may be among the most exciting live-television events of our time.
There's also the chance, of course, that Trump will have sewn up the nomination before the convention — which means he can shape the pageantry unimpeded, and do so with all the exquisite taste he brought to The Apprentice. A Trump-produced convention is going to have something for the whole family: an Apprentice-esque competition for the veep slot on the ticket, comics and music acts culled from the best that Trump's former Atlantic City properties had to offer, and, with luck, a scene or two from that stillborn effort to create a Trump Broadway musical.
This week Cruz attacked Trump's presidential campaign for resembling "a Kim Kardashian reality show." I doubt Cruz has ever actually watched a Kardashian reality show, but in any case he ain't seen nothing yet.