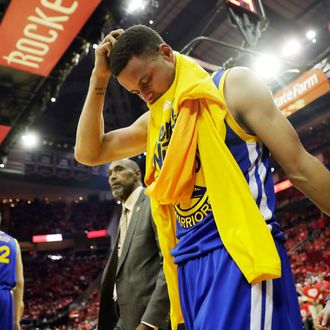 Stephen Curry heads to the locker room at the start of the second half of yesterday's Game 4.
Photo: David J. Phillip/AP
After a regular season in which he made a ridiculous 402 three-pointers and led his team to a historic 73-win season, Stephen Curry's postseason got off to a terrible start when he sprained his right ankle during Game 1 of Golden State's series against Houston. He'd miss the next two games before returning to the lineup in yesterday's Game 4, but his injury woes only deepened: Curry left the game with what the team called a sprained right knee, and he'll undergo an MRI today. And so now, for the second time since the postseason began, the Warriors (and, really, all fans of beautiful basketball) are nervously awaiting Curry's rest results.
Late in the first half of Game 4, Curry slipped while guarding Trevor Ariza and went down awkwardly, banging his right knee on court.
He grabbed his knee and limped to the locker room. After halftime, he was ruled out for the remainder of the game. Upon hearing the news, Curry cried in the huddle, then returned to the locker room.
There had been optimism in the Warriors locker room that Curry's ankle injury in Game 1 wouldn't be a big deal. At the time, Curry even believed he could return for Game 2, and while that didn't happen, an MRI revealed no serious injury. But the vibe this time was different. The Warriors won Game 4 to take a 3-1 series lead, but Curry's teammate Draymond Green called the level of concern "high," explaining that "You've got to be. You're talking knee. It's obviously not the same ankle and stuff (that he suffered in Game 1)."
The Washington Post, meanwhile, described Golden State coach Steve Kerr as sounding "like someone planning on figuring out what life without Curry will be like." Said Kerr: "I just feel awful for him. Hopefully he's going to be okay before too long … we don't know. But I just feel so bad for him."