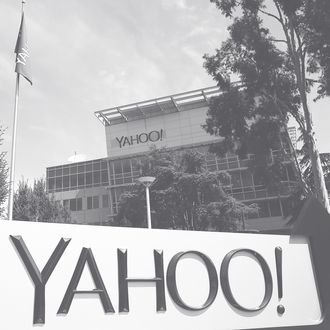 Photo: Justin Sullivan/Getty Images
Yahoo, the home page for people who don't know what home pages are, is in trouble. Well, in more trouble than was previously thought: According to two separate reports this week, the company's media business is in disarray and its presentation to potential buyers is suspiciously complicated.
Since Marissa Mayer took over as CEO four years ago, the company has spent most of its time trying to figure out what it is, exactly, besides the punch line to a joke. A search engine? A web portal? A very large publisher? Tumblr's slowly dying parent company? It's surviving, obviously, but mainly for the same reasons that it takes longer to hit the ground when you're falling from very high up.
Our first sign that Yahoo is in even more trouble than previously thought comes from a Vanity Fair report concerning the company's media business, which tried to reinvent itself shortly after Mayer's hire, by hiring and poaching numerous marquee media names, most notably Katie Couric. But what these big media personalities encountered when they arrived at Yahoo was a tech company that heavily favored data when making decisions.
Crucially, Yahoo's billion-person-a-month home page is run by an algorithm, with a spare editorial staff, that pulls in the best-performing content from across the site. Yahoo engineers generally believed that these big names should have been able to support themselves, garner their own large audiences, and shouldn't have relied on placement on the home page to achieve large audiences. As a result, they were expected to sink or swim on their own.
This resulted in writers quite literally competing for attention with articles about Kim Kardashian's butt — a competition which, if you've spent any time online at all, you know you'll lose.
Now, the media department is scaling back its focus to four main sections — news, sports, finance, and lifestyle — and getting rid of employees in the process. Of global editor-in-chief Martha Nelson, one employee told Vanity Fair, "she thought she was being invited to the party, and then she showed up and they handed her a broom."
Another source told Vanity Fair the company was reverting to its beginnings as "a crap home page for the Midwest." Rude, blunt, but, also … not wrong. 
Meanwhile, Re/code's Kara Swisher got a hold of Yahoo's sale "book" — the prospectus being given to potential buyers. She describes it as "straightforwardly showing a successful, growing business." No, kidding, obviously: Swisher calls it "unusually confusing and perhaps purposefully so," and describes its contents as portraying a "financial meltdown" at "a company in what has been a serious free fall[.]"
Many of the company's revenue streams are declining to a total of an estimated $3.5 billion in 2016, down from $4.1 billion the year prior. 
In fact, several possible buyers I spoke to — both strategic and financial — think the entire book is confounding, because Yahoo has shifted around everything so much that it is not easily clear what is making money and what is not. For example, some search staff costs seem to have been shoved into research, while regional units across the globe are not broken out as clearly as before and sometimes — as in the case with the Asia-Pacific region — have been put in the sales unit numbers (Asia head Rose Tsou now reports in there). No one knows where the newly higher food costs for employees have gone, even if they are in there somewhere.
Detailed answers to prospective buyers won't be provided until the next round of bids. Initial bids are due next Monday. Most of the people Re/code spoke to are planning to make a bid, driven by the complex logic of "Eh, why the hell not?"