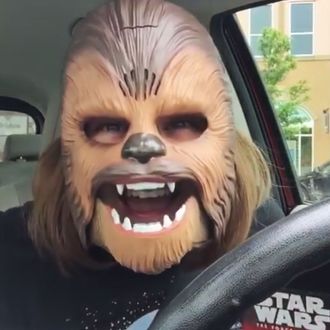 Photo: Candace Payne/Facebook
It's always nice to find a great deal. Sometimes you walk into Kohl's expecting to return some clothing that doesn't fit, and you end up finding something new, something exciting.
Sometimes, the thing you find is so exciting that you immediately have to jump on Facebook Live and show your friends. And sometimes that livestream — a brief four minutes of rapturous joy — ends up getting viewed 28 million times, and shared another 847,000 times.
Which is all to say, Congratulations, Candace on finding this great Chewbacca mask. I'm sold.