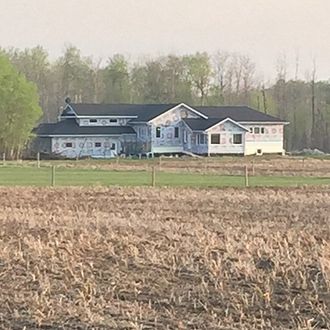 Crowdfunded business ideas don't always go wrong, but when they do go wrong, they often do so spectacularly. Take, for example, "Peachy Printer," a Canadian Kickstarter campaign that pledged to build "the world's most affordable 3D printer."
Yesterday, the printer's inventor and part-owner of the company, Rylan Grayston, posted an update with a shocking reveal: His business partner, David Boe, had embezzled more than half of the $587,000 CAD earned by their successful fundraiser on Kickstarter (the full amount raised was $651,091, and more than $63,000 went to Kickstarter and assorted fees). Boe allegedly stole $324,716 CAD and used them to construct a new house.
Grayston has known something had gone wrong for a while — his disclosure to Kickstarter includes an extensive collection of evidence, as well as a couple of slickly produced videos and a complete redesign of peachyprinter.com to focus on the theft. According to the site's timeline, Grayston spent much of 2014 chasing down Boe and the money looking for answers.
The theft, as Grayson tells it, happened through a combination of poor planning and a lot of naïveté. Peachy Printer's corporate bank account was not set up when the company's Kickstarter closed, so Boe used his personal account to collect the funds. Only Boe had access to the money and could monitor the account. You can see how this went wrong.
Boe met up with Grayston to record an interview at what appears to be the world's most drab hotel. In it, Boe admits to embezzling funds, apologizes, and says he's trying to make it right. There's no word on how he'll do that. It is kind of excruciating to watch.
That Boe would participate in this video and fully confess is mind-boggling, but Grayston believes he did so because Boe never believed the video would come out. "I told him I'd only release the video if he failed to pay us back before we were ready to ship," Grayston told backers.
In the end, Peachy Printer was able to recover $262,734 CAD from Boe, but Grayston kept quiet about the embezzlement until it became clear that he wouldn't be able to get back all of the money. "After finding out, I immediately sought legal counsel and followed their advice to pursue repayment," he told backers on the site's FAQ. "After losing faith that David would repay in time, I found new legal counsel. I then received different advice — go to the police — and that's what I did. That was in October of 2015."
"I wish I could have found a way to talk about it sooner and personally, I wanted to," he also writes. "But I put my personal feelings aside and did what I thought would get you a printer. Not talking about this publicly undoubtedly got us much closer to shipping printers." Grayston has since uploaded all of Peachy Printer's source code to a Github repository in an attempt to partially make good.
Grayston also disclosed that he does not have enough funds to pursue a lawsuit against Boe. He did not respond to an interview request, but we'll update if we hear back.
Reached for comment, Kickstarter offered a terse statement: "Anyone who abuses our system and the trust of our community exposes themselves to legal action. We're reaching out to the law enforcement officials who are already looking into this case, and will assist however we can." They did not respond specifically to questions about whether any safeguards were being put in place to make sure this doesn't happen again.
Money collected from other sources like Indiegogo, or directly from Peachy Printer's website, went to the company, and not to Boe's back account. However, they've since run out of funds — including the money recovered from Boe — and are no longer able to refund any backers.