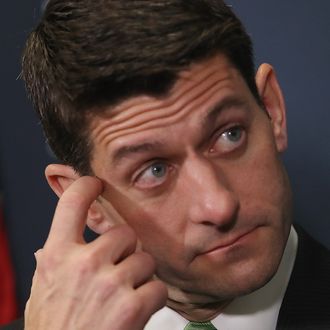 "It's his party, and I'll cry if I want to."
Photo: Mark Wilson/Getty Images
Before Paul Ryan endorses Donald Trump, he wants to see the mogul "unify" the GOP. When the House Speaker announced his ambivalence about the Donald earlier this month, he said that "the bulk of the burden on unifying the party will have to come from our presumptive nominee."
"I think conservatives want to know, 'Does he share our values and our principles on limited government, the proper role of the executive, adherence to the Constitution?'" Ryan continued.
But recent polling data suggests most rank-and-file conservatives are less suspicious of Trump's values than they are of Ryan's. An NBC-SurveyMonkey poll released Tuesday found that six in ten Republican voters trust Donald Trump more than Paul Ryan to lead their party. That finding comes one week after Public Policy Polling found the Speaker underwater among Republican voters, with 44 percent of red America saying it disapproves of his job performance. Back when Ryan first ascended to the Speakership last fall, 69 percent of Republicans were pleased by his promotion.
But the fact that Ryan has proved such a divisive figure shouldn't be surprising, considering the many fringe positions he's taken in recent months. For example, the Speaker opposes a blanket ban on all Muslims entering the United States, despite that policy's overwhelming popularity with Republicans. Similarly, Ryan's lack of enthusiasm for border walls or mass deportation — and his support for entitlement cuts — make conservatives wonder if he shares their values of keeping out foreigners and protecting Medicare from attacks by big government.
Among conservative elites, Trump is a genuinely divisive figure. But the GOP electorate just isn't that divided over the Donald. Back in March, two-thirds of Republicans were either "satisfied" or "enthusiastic" about the prospect of a Trump nomination. In the ensuing months, even as Establishment donors spent millions trying to engineer a #NeverTrump movement, Republican voters lined up behind their front-runner. Since the mogul secured the nod, general-election polls have steadily tightened, as conservatives have rallied around their standard-bearer.
After meeting with Trump in D.C. last week, Ryan warned that the GOP must not "pretend" to be unified before the party actually confronts the issues that divide it. But it may be the Speaker who's indulging a fantasy — pretending that his party is divided, so as to avoid confronting the values that actually unite it.