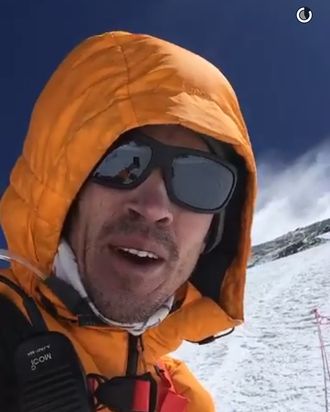 I hope it's not rude to say, but unless you are one of a few hundred people on the planet, you are probably never going to climb Mount Everest. You do, on the other hand, probably have Snapchat. (If you don't, our Snapchat 101 is a good place to start.)
So do yourself a favor and start following @EverestNoFilter, an account run by Adrian Ballinger and Corey Richards, two dudes who are currently attempting to summit the world's tallest mountain and documenting the whole thing on Snapchat. (Mount Everest got 4G coverage back in 2013.)
Ballinger and Richards, who we first spotted over on Mashable, arrived at base camp on April 25. Since then they've been documenting everything from what they are eating (a shit ton of Soylent) to their jams of choice (the Lumineers). And, of course, lots and lots of spectacular views.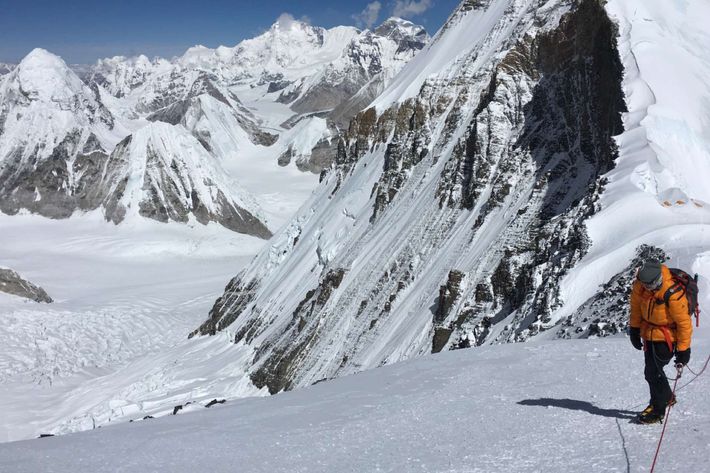 As of Friday morning, the guys were snapping from 24,500 feet of elevation. Because they're doing the trek without supplemental oxygen (like climbing Everest isn't metal enough), they have to work their way up incrementally, climbing back to a base camp daily as they make their way to the top. Which is good for us, because it means more snaps.
Now I just want to know who their service provider is, because I can't even get my phone to send a Snapchat from the subway platform, much less many thousands of feet above sea level.