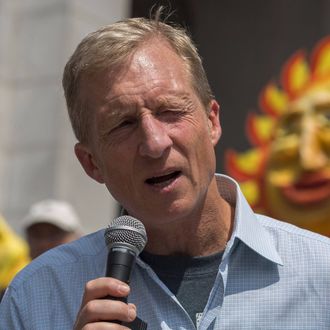 Tom Steyer.
Photo: David McNew/AFP/Getty Images
The AFL-CIO wants to elect a bunch of Democrats this fall. So does billionaire environmentalist Tom Steyer. The tree-hugging hedge-fund manager has pledged $5 million to a labor-helmed super-pac, aimed at juicing turnout for Team Blue in key Senate races and swing states.
But now a coalition of building trade unions says it doesn't want to take Steyer's filthy, clean-energy-loving money. The problem? Steyer bankrolled the opposition to the Keystone Pipeline, a project that would have created roughly 4,000 temporary construction jobs (while hastening the onset of ecological apocalypse).
On Monday, the presidents of eight building trade organizations presented AFL-CIO president Richard Trumka with letters outlining their concerns — and threatening to boycott the fall turnout effort if Steyer isn't ousted from the coalition.
"The AFL-CIO has now officially become infiltrated by financial and political interests that work in direct conflict to many of our members'—and yes, AFL-CIO dues paying members' lives," the presidents write, in a letter obtained by the Washington Post. "This is a disturbing development and one that requires a further explanation."
The disaffection of these unions is particularly concerning for Democrats, in light of Donald Trump's populist appeal to white workers. While most of the building unions have endorsed Hillary Clinton, some remain on the sidelines.
For the builders unions, the veto of Keystone by a Democratic president was a rude reminder of their diminishing power within the party's big tent. As private-sector union membership has declined, construction and manufacturing workers have become increasingly reliant on partnerships with public-sector unions and big-money class traitors. But public-school teachers and progressive billionaires have little interest in supporting the construction of new gas pipelines or protecting union jobs at coal-fired power plants.
In a separate, more vitriolic letter, the president of the 500,000-member laborers union, Terry O'Sullivan, lamented this sorry state of affairs.
"Years of financial distress have left the A.F.L.-C.I.O. desperate for cash, and it appears that the answer is to sell out to a billionaire who not only has little or no stake in our movement, our members or their work but who has actively fought against our members' interest," O'Sullivan wrote.
The complaint is understandable, but it also seems shortsighted. Tom Steyer isn't the reason that the Democratic Party cares more about climate change than maximizing employment opportunities for coal workers and pipeline builders — the former concerns literally all humans who accept its reality, while the latter concerns only a few thousand. And even if the IPCC admits that climate change is a hoax tomorrow, the Keystone Pipeline still wouldn't make economic sense: It's only profitable to extract Canadian tar sands when oil is selling above $60 a barrel. On Monday, crude hit a six-month high — of $47.85.