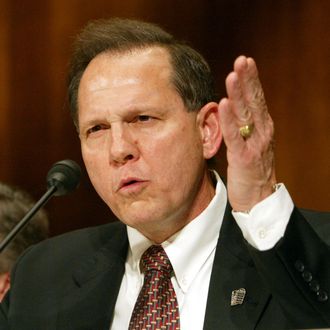 Roy Moore is back.
Photo: Matthew Cavanaugh/2004 Getty Images
Alabama Supreme Court chief justice Roy Moore has been sort of, kind of deliberately ignoring last June's ruling by the United States Supreme Court legalizing same-sex marriage across the country, but an Alabama Judicial Inquiry Commission is finally taking him to task for refusing to uphold the law. According to Reuters, Moore has been charged with violating Alabama's judicial-ethics laws, which means he could be removed from the bench altogether.
The charges against Moore stem from his decision in January to issue an administrative order to state probate judges directing them not to issue marriage licenses to same-sex couples; in doing so, he argued that the Supreme Court's ruling in Obergefell v. Hodges only applied to states directly mentioned in the case (Michigan, Ohio, Kentucky, and Tennessee), and that two prior Alabama Supreme Court rulings made same-sex marriage illegal. The conflicting rulings, he said, resulted in "confusion and uncertainty."
Unfortunately for Moore, the commission found his logic flawed. "Chief Justice Moore flagrantly disregarded and abused his authority," read the complaint against him. "Moore knowingly ordered [probate judges] to commit violations knowingly subjecting them to potential prosecution and removal from office."
Moore, of course, released a statement saying the commission had no authority over administrative orders and that he "intends to fight this agenda vigorously" and "expects to prevail."
This would mark Moore's second time to be booted from the bench for refusing to comply with laws that run contrary to his personal beliefs. In 2003, he was ousted after he refused to take down an enormous granite monument (of his own design and construction) to the Ten Commandments outside the Alabama State Judicial Building. He won his seat back in 2012, but it doesn't seem as though he's learned from the experience.