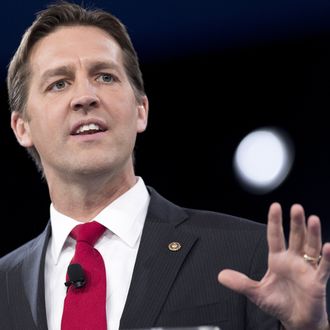 Stay Sasse-y, #NeverTrump holdouts.
Photo: Saul Loeb/AFP/Getty Images
The Washington Post reports that a rogue group of Republicans, including former presidential candidate Mitt Romney, are still actively trying to plot an independent presidential run to prevent Donald Trump from making it to the White House. The #NeverTrump holdouts reportedly include Romney, conservative commentators William Kristol and Erick Erickson, and veteran GOP operatives Mike Murphy, Stuart Stevens, and Rick Wilson. Their intensifying, if desperate, efforts include attracting funding, commissioning polls to measure the feasibility of a third-party conservative candidate, and trying to recruit said candidate — with hard sells being attempted on Nebraska senator (and prominent Trump rejector) Ben Sasse, recently departed candidate John Kasich, and even, at one time, billionaire and reality TV veteran Mark Cuban.
Unfortunately for Romney & Co., their advances have apparently been consistently rebuffed, with the prevalent accepted notion being that any Republican that runs against Trump in the general election will be committing career suicide. In addition, the organizers seem to already realize, if not accept, that the odds are long, especially when considering the extremely short window of time they have to further solidify their insurgency. Regardless of how unlikely an outright independent candidate win would be, however, the other enticing prospect for the group is the possibility that a their sacrificial-#NeverTrump-lamb would make it impossible for either Trump or Hillary Clinton to win a majority of the electoral college, throwing the choice to the GOP-controlled House of Representatives. 
But regarding Sasse, Politico points out that the senator is already facing backlash within Nebraska over his refusal to support Trump. They report that there is a proposed resolution — from within the family of Nebraska's senior GOP senator Deb Fischer no less — for the state GOP to vote to withhold future support from any officeholder who opposes Trump. Sasse, who ended his recent "Open Letter to Majority America" denouncing Trump with the hashtag #GiveUsMoreChoices, may find silence as the only one left if his new in-state opponents are successful.