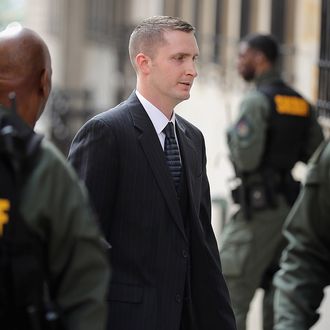 Baltimore cop Edward Nero
Photo: Chip Somodevilla/Getty Images
One of the six Baltimore cops charged in the Freddie Gray case was acquitted of all charges in a bench trial on Monday. Officer Edward Nero, who participated in the arrest of 25-year-old Gray, was found not guilty of second-degree assault, misconduct, and reckless endangerment. Gray died just over a year ago from injuries allegedly sustained while he was in police custody. Officers apparently failed to strap him into a seat belt and took him for a "rough ride." Gray's death fueled protests across Baltimore over police misconduct.
This is the first verdict to come out of Freddie Gray's case, though it's the second case tried so far. Officer William G. Porter faced trial last year, but it ended with a hung jury. Nero was one of the officers on patrol who arrested Freddie Gray. Prosecutors argued that Nero and his fellow cops overstepped their authority by arresting and roughing up Freddie Gray without probable cause. The defense argued that Nero lawfully detained Gray, and also didn't have a key role in his arrest — the argument with which the judge ultimately agreed. 
Baltimore mayor Stephanie Rawlings-Blake asked residents to be patient after the verdict, but added that the city is "prepared to respond" to any protests, per the Baltimore Sun. "We will protect our neighborhoods, our businesses and the people of our city," she said.