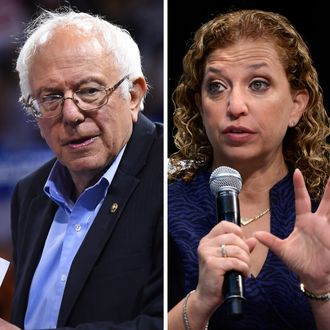 Shade thrown.
Photo: Robyn Beck/Getty Images; Leigh Vogel/Getty Images
Debbie Wasserman Schultz probably won't be sending Bernie Sanders a Hanukkah card this year.
At Nevada's Democratic convention this past Saturday, 56 pro-Sanders delegates were disqualified for failing to register with the state party by May 1 (eight Clinton delegates suffered a similar fate). Hillary Clinton then won the convention by a 33-vote margin. This swung a grand total of four delegates from Sanders to Clinton. Bernie-backers proceeded to storm the stage, throw chairs, and say swear words until security kicked them out. Later, someone published Nevada Democratic Party chairwoman Roberta Lange's personal contact information, and America's worst social democrats harassed her with obscene messages and death threats.
This gave the Democratic leadership nightmares about a similar revolt happening in Philadelphia, on national television, during the party's late-July weeklong infomercial. Senate Minority Leader Harry Reid demanded Sanders disavow his supporters' behavior. On Tuesday, the Vermont senator condemned the violence and harassment — while also decrying the rigged system that inspired it.
That was not the statement that the DNC chair was hoping for.
"The senator's response was anything but acceptable," Wasserman Schultz told CNN Wednesday. "It certainly did not condemn his supporters for acting violently or engaging in intimidation tactics and instead added more fuel to the fire … It is never OK for violence and intimidation to be the response to that frustration. That's what happens with the Trump campaign."
Sanders campaign manager Jeff Weaver then reiterated the campaign's antipathy for violence.
"He categorically condemns any kind of threats that went on — absolutely unacceptable," Weaver told CNN, before accusing the DNC chair of "throwing shade on the Sanders campaign from the very beginning."
"Look, I gotta say it's not the DNC," he added. "You know, by and large, people at the DNC have been very good to us. Debbie Wasserman Schultz really is the exception."
But Wasserman Schultz's dissatisfaction with Sanders's initial statement is unexceptional.
"Bernie should say something – not have some silly statement. Bernie is better than that. Bernie should say something – not have some statement someone else prepared for him," Reid told CNN Tuesday. "I'm surprised by his statement. I thought he was going to do something different."