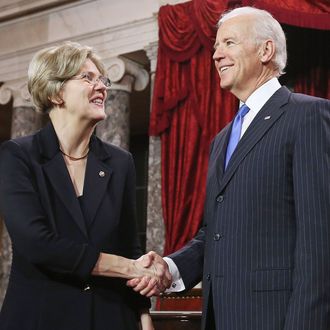 The ones that got away.
Photo: Chip Somodevilla/Getty Images
Last August, Joe Biden asked Elizabeth Warren to lunch. The confab between the sitting vice-president and the freshman big-bank eviscerator from Massachusetts became the political story during that sleepy summer week — and the event proved to be roughly as overhyped as Star Wars: Episode I - Phantom Menace. The pair did not emerge from the vice-president's residence to shout in unison, "We are Joelizabeth, destroyer of Clintons." Instead, Biden decided to quietly serve out his term as the Onion's best character, while Warren continued to generate the banking committee's most viral videos.
But now, some nine months later, juicy details from that meeting have finally been leaked: According to Politico, Biden told Warren that he wanted her to be his running mate. Warren was, reportedly, "noncommittal but not displeased." However, Warren gave Uncle Joe some of her signature straight talk, telling the former senator from Delaware — a.k.a. the Cayman Islands of the mid-Atlantic — that he was kind of an odd choice to be the progressive alternative to Hillary Clinton. Per Politico:
>
Warren conceded — prophetically in retrospect — that Clinton would face a progressive backlash but she informed Biden that his record on Wall Street was little better than that of the woman he hoped to topple as front-runner. As a senator, Biden, like Clinton, had supported a 2001 bankruptcy bill that Warren vehemently opposed; her advice to Biden was that, to appeal to the left, he would need to start talking right away about Wall Street reform.


That same day, Warren did not rule out accepting an offer to become Clinton's running mate in an interview with Mic, telling the site, "We've got to get all of our nominations settled on the Democratic side … For me, I'm going to keep doing my job every single day and I'm not thinking about another job."
But while Clinton certainly could have used Warren's endorsement this primary season, it's not clear that the presumptive Democratic nominee feels she needs to throw the left any more bones going forward. It's true that recent polling suggests there are a good number of left-leaning independents who can't bring themselves to say they'll vote Clinton in November. But Trump's nomination offers the former secretary of State the possibility of picking off some Republican suburbanites; the candidate may decide that the left will eventually come home, so she'd be better off picking a putative moderate like Virginia senator Tim Kaine.
And it's not clear that Warren could do more for progressives on the ticket than she currently does on the banking committee. The former law professor is a highly effective senator, whose national profile and donor network allow her to exert a rare independence from her party's big-money wing. It's entirely possible that the titans of Wall Street would prefer to see Warren leading the ceremonial applause during President Clinton's State of the Unions than to have her pushing for profit-narrowing regulations in the upper chamber.