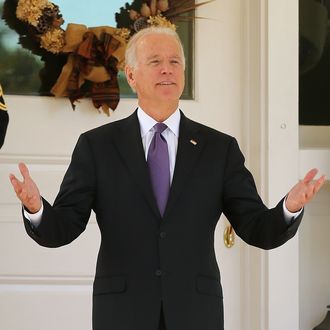 Are you sure, Joe?
Photo: Chip Somodevilla/Getty Images
Head lice and the DMV are more popular than Donald Trump. Hillary Clinton can't shake this whole email thing. These are the two presumptive major-party nominees for America's highest office. So here's Vice-President Joe Biden to rub it in.
"I think I would have been the best president," Biden told ABC News in an interview that aired Wednesday morning, saying he had planned on running until his son Beau's death. Biden stressed again that he felt he made the right decision to sit the election out. "No one should ever seek the presidency unless they're able to devote their whole heart and soul and passion into just doing that," he said. "Beau was my soul. I just wasn't ready to be able to do that."
"My one regret is that my Beau's not here," Biden added. "I don't have any other regrets."
Biden said that while he thinks everyone "underestimated" Donald Trump, he's pretty sure Clinton's got this. "I feel confident that Hillary will be the nominee, and I feel confident that she'll be the best president." Of the people running, that is.