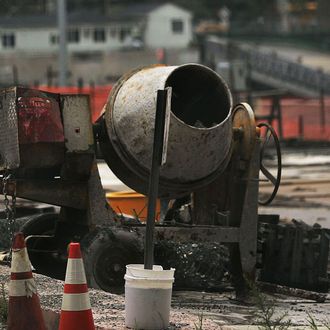 The feet of a body found near Kingsborough Community College had been dipped in poured concrete.
Photo: Chris Hondros/Getty Images
When news first broke that a dead body wrapped in a plastic bag had been found on Monday washed up on the Brooklyn shore near Kingsborough Community College, cops didn't immediately give a cause of death. But further details emerged today — ones that NYPD chief of detectives Robert Boyce says indicate the death was "obviously a homicide." Not only was the man's body wrapped in a bag with his arms and legs tied behind him, his feet had been submerged in poured concrete — "cement shoes," as the old mafia term goes. (Or, at least, Hollywood's version of one.)
The man's identity hasn't been released, but police sources told the Daily News that the body wasn't badly decomposed. The AP reports that an autopsy was being performed to determine how long the body had been in the water. Officials are investigating, and cops hope a large tattoo on the man's back — of the Virgin Mary holding a rose — will help them identify the body. If you have a mobster with a Virgin Mary back tattoo in your life, now might be a good time for a check-in call.