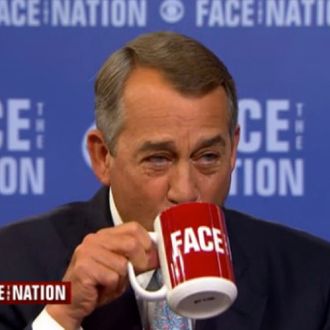 Former House Speaker John Boehner said he would support Donald Trump as the Republican nominee for president even though he doesn't agree with any of his policy ideas, CNN reports.
Speaking at a Las Vegas hedge-fund conference on Thursday, Boehner said Trump was the nominee "whether people like it or not," then proceeded to answer "no" repeatedly when asked whether he supported Trump's proposals to build a giant wall along the border with Mexico, temporarily ban Muslims from entering the U.S., and impose aggressive tariffs on trade with China and other countries.
Boehner may not be thrilled to board the Trump train, but he does appear relieved to be rid of Ted Cruz, the Texas senator whom he publicly called "Lucifer in the flesh." "Thank God the guy from Texas didn't win," he told reporters.
His successor, Wisconsin representative Paul Ryan, has been reluctant to support the presumptive nominee and is currently engaged in an elaborate courtship ritual with the Donald. Boehner predicted that the obstacles to Ryan's endorsement would "get smoothed over" soon.
So what does Boehner, whose speakership consisted of multiple efforts to effectively nullify President Barack Obama's legislative legacy, like about Trump? Mainly, it would seem, that he's a Republican with a pulse and a plausible shot at winning the White House. "Anybody who doesn't think Donald Trump can win," he said, "just watch."