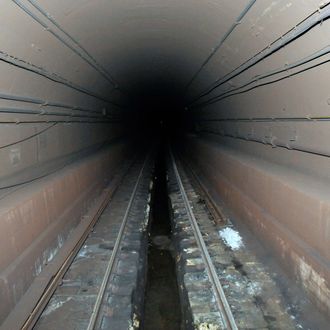 Before you cry, this is why.
Photo: Marc A. Hermann/MTA New York City Transit
The MTA wants to know how you'd prefer your L train shutdown: total and complete, but lasting just a year and a half; or closure lite, with sections of the tunnel shuttered and severely reduced service to enjoy for up to three years. 
Neither option sounds particularly attractive. But Hurricane Sandy has left the transit authority with little choice. The superstorm flooded and badly damaged the tubes that run under the East River between Manhattan and North Brooklyn. The MTA inspects it regularly, per the New York Times, and makes sure it's safe for riders. But you can only put off a close-to–$1 billion vital infrastructure project for so long.
So here's a sneak preview of possible service-change subway posters you'll eventually see plastered near the L train stops. Total closure would cancel train service in both directions between Eighth Avenue in Manhattan and Bedford Avenue in Brooklyn for a full 18 months — which, for some context, is basically the entire length of the Donald Trump presidential candidacy. Regular L service would resume at Lorimer Street and through the rest of Brooklyn to the end of the line in Canarsie.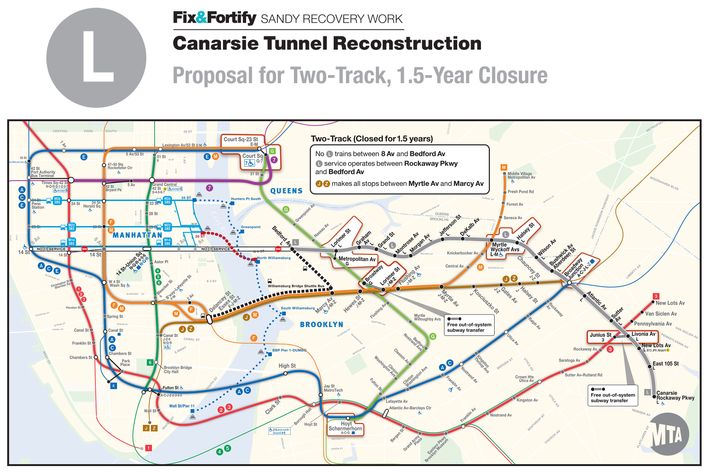 And now for the option behind Door No. 2, the partial shutdown: One tube would stay open, so trains would run with limited service between Manhattan and Bedford Avenue. The other big caveat: Trains would arrive every 12 to 15 minutes even during rush hour. The L train — which carries about 400,000 riders daily, about 225,000 of whom shuttle underneath the East River — would only have the capacity to carry about a fifth of those commuters under this plan. And again, riders are signing up for a three-year commitment.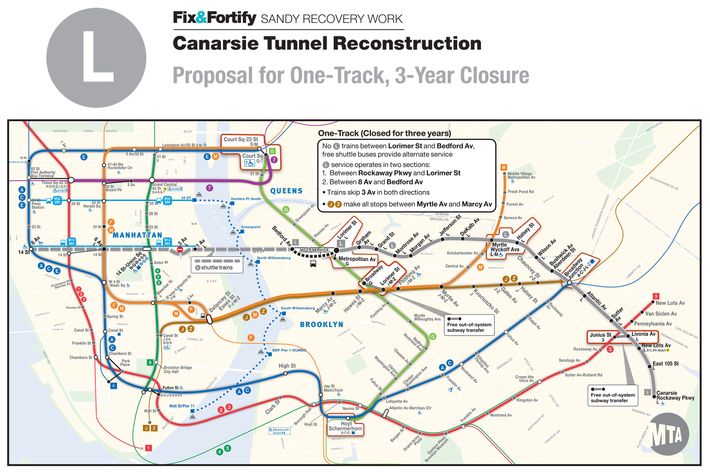 The MTA will try to ease the misery by adding bus service over the Williamsburg Bridge and stepping up service on nearby lines such as the J/M/Z and the G. One silver lining: The MTA will potentially add more cars to the truncated G trains, ending the long-held tradition of sprinting frantically to the center of the platform to try to jump on the subway. Ferry service may also be an option.
The MTA will decide, with public input, which option to go with — ripping off the Band-Aid, or relentless torment — in about three months, starting with a community meeting tonight in Williamsburg, and another in Manhattan next week. Construction for either plan won't begin until 2019, so that gives straphangers at least three years to stew, or pick up and move to Park Slope and forever yell at the F train instead. Or hope this whole gondola thing works out.