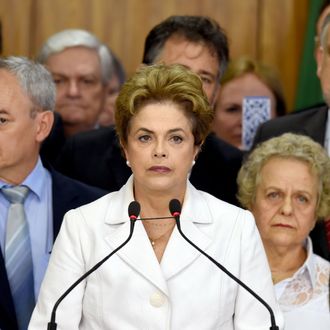 Brazil's suspended President Dilma Rousseff makes a statement at the Planalto Palace in Brasília on May 12, 2016.
Photo: Evaristo Sa/AFP/Getty Images
The Olympic torch arrived in Brazil's capital of Brasília on May 3, its first stop as athletes pass the flame across the country ahead of the 2016 Games in Rio de Janeiro. President Dilma Rousseff oversaw the kickoff of the ceremonial torch relay. But when that torch arrives in Rio this August it's very likely that a different president will be there to greet it. 
Rousseff is stepping aside from her presidential duties after Brazil's Senate voted Thursday, in a session that lasted 20 hours, to impeach the leader by an overwhelming margin: 55 to 22. Her vice-president, Michel Temer, will take over as president while Rousseff faces trial, which will likely take months. 
Rousseff, a member of the leftist Workers' Party and the country's first woman president, is accused of breaking financial laws — she allegedly used some creative accounting to hide a growing budget deficit, which made it appear the economy was in better shape than it actually was. She apparently did all of this in 2014, just ahead of her reelection fight. Rousseff narrowly won a second term in a close and contested race.
Rousseff has called the impeachment a "coup," saying, "I may have made mistakes but I did not commit any crime." She doubled down on her innocence and said she was determined to fight the charges against her. 
But the outcome of the impeachment trial also does not look great for Rousseff. Brazil is in a deep recession (the worst in 25 years), and unemployment is stubbornly high. The flagging economy, combined with perceived political corruption — namely a bribery scandal within Brazil's state-owned oil company — have eroded Rousseff's once-strong support among Brazilians and in Congress.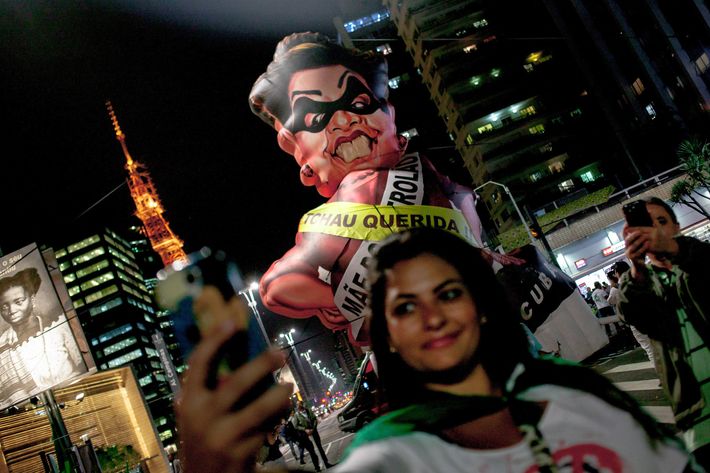 The political turmoil is peaking just before Brazil's — and South America's — coming-out moment at the 2016 Olympics. The International Olympic Committee has said that the impeachment proceedings won't affect the games, and that the committee is "looking forward" to working with the new government. Yet tickets to Rio have been slow to sell, and many point to the economic and political turmoil as one of the reasons. Some fear political protests, which have erupted during the impeachment, may turn violent. Brazilians have protested Rousseff en masse since last year, but they've grown more tense (and sexist) in the wake of the impeachment scandal. On Wednesday night, during the Senate hearings, pro- and anti-Rousseff demonstrators clashed with police and each other. 
Questions also swirl over whether Brazil's infrastructure can withstand the influx of people, or even accommodate the Olympic Games. Many see the corruption in the political sphere as infecting Olympic contracts, raising fears of shoddy construction. (Rio formed a committee to investigate potential graft in Olympic bids.) Indeed, last month, a new elevated bike path along Rio's shoreline — touted as an Olympic "legacy project," per the AP — collapsed when a giant wave washed over it. Two people died. The bike path had been open all of one day. And then there's the great poop freak-out. People worried about whether Brazil's sewage-filled waterways, where athletes will need to swim and sail, would be safe in time for the Games. Brazil's economic woes have hampered the cleanup efforts — there's just not enough money. In the meantime, coaches are telling their athletes to "shut their mouths" in the water.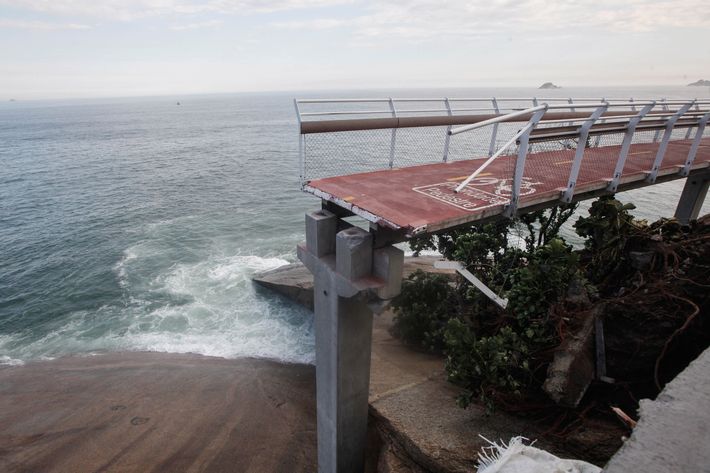 And then there's Zika. Brazil is ground zero for the virus. Athletes have raised concerns about the risks. Public-health advocates warned in a new paper that coincided with Rousseff's impeachment that the Olympics could hasten the spread of the virus if they're infected and travel back to their home countries, especially since the virus can linger in blood and sperm. Some experts have advocated postponing or relocating the Games. 
Whether or how much Rousseff's fate plays into the Olympics will become clear over the coming months. But even before the Senate voted, Brazil's popular soccer star Rivaldo offered up a bad omen. In an Instagram post about the murder of a 17-year-old girl, he warned the world to stay home and avoid the Games in Rio. "You'll be putting your life at risk here," Rivaldo wrote, noting, "All this mess in Brazilian politics."