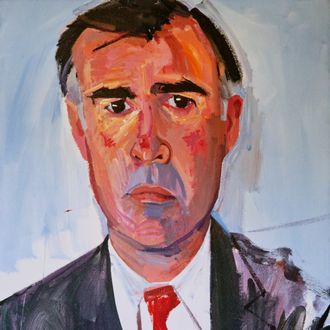 The unpredictable California governor predictably supports an old foe.
If you stick around politics long enough, it's often said, you get to see everything. Anyone who remembers Jerry Brown's unorthodox, left-bent 1992 presidential campaign, which contested Bill Clinton's nomination long after it was certain and right up to the convention, has to be a bit amused at Brown's decision today to endorse Hillary Clinton on the grounds that Bernie Sanders's challenge threatens party unity. 
In his "open letter to California Democrats and independents," Brown alludes to certain similarities between his '92 campaign and Sanders's effort this year. But he doesn't mention the duration of his challenge to Bill Clinton, even as he suggests that Bernie should pack it in lest he indirectly help Donald Trump become president.
At the 1992 Democratic convention in New York, Brown's supporters tried to shout down speakers with chants of "Let Jerry speak!" (the Clinton campaign wanted an endorsement from Brown before letting him near the podium, of course), and some in the California delegation tried to shout down Hillary Clinton when she addressed them on her husband's behalf.  
That wasn't the first or worst time HRC felt the wrath of Jerry: During a candidate debate earlier that year, Brown lashed out at Bill Clinton for allegedly steering state business to Hillary's law firm in Arkansas. After accusing the unpredictable former California governor of "reinventing yourself every year or so," the Big Dog bitterly said to Brown, "You aren't worthy of standing on the same platform as my wife."
Well, Brown may or may not stand on the same platform with Hillary Clinton in the seven days remaining before the end of the California primary. But Bill Clinton was wrong about one thing: Jerry Brown hasn't reinvented himself every year or so; he's prone to long, slow arcs of reinvention, which ultimately made him, in this (presumably) last incarnation, into a tough-minded centrist who has managed to turn California's notoriously dysfunctional fiscal situation around and become the closest thing California Democrats have to a unifying figure. If you knew nothing of Brown's history, his endorsement of Hillary Clinton would be completely unremarkable. But the Golden State's relationship with its current governor is full of rich and tangled history; he was, after all, elected chief executive the first time around four years before Bill Clinton first became a governor, and seven years before Bernie Sanders was elected to anything. 
For all the urgency Brown expresses in his "open letter" about Donald Trump's threat to America, California's not in danger of falling to the tycoon in November. As he notes, moreover, Clinton has all but wrapped up the Democratic nomination no matter what happens on June 7.  But an actual Clinton win in California would go a long way toward forcing a pre-convention reckoning between the two candidates, and perhaps avoiding the kind of dissension Brown himself tried to unleash in New York 24 years ago. If Clinton does win on June 7, Brown will probably get more credit than he deserves, given the limited impact of endorsements. And that might finally bury one of the best-known hatchets in American politics.