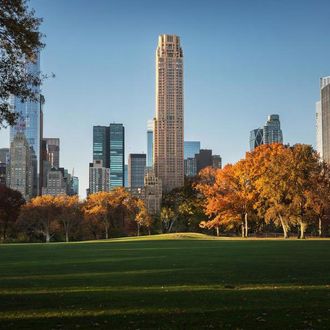 A rendering of 220 Central Park South, where one apartment is selling for a quarter-billion dollars.
Photo: Vornado Realty Trust
The most expensive apartment ever sold in New York is the penthouse at One57, which went for $100.5 million last year. But a new condo in the under-construction 220 Central Park South could shatter that mark: Taking up two entire floors and parts of two others, the 23,000-square foot apartment is priced at $250 million. According to floor plans, it has 16 bedrooms, two kitchens, and five balconies (in addition to an enormous terrace, of course).
To create an apartment worthy of such an extreme price tag, developer Vornado Realty Trust combined a duplex on the 50th and 51st floors with three apartments on the two floors directly above it. The duplex alone was being offered for $150 million, but combined with a pair of apartments on the 52nd floor and another on the 53rd, it may now challenge the sale price of an apartment in London's One Hyde Park that went for $237 million in 2014. This all despite a recent real-estate trend of breaking up apartments into smaller units.
The developer boasts that because of its "generous height and precise location," the 66-floor, Robert A.M. Stern–designed building is one of only a few to offer views of Central Park's entire length.
The details about the pricey megaapartment come from an amended offering plan filed with the state attorney general, and reviewed by The Real Deal. Last year, the magazine reported that a Qatari buyer was looking to combine multiple units into a single, $250 million apartment. And last fall, multiple outlets reported that hedge-fund mogul Ken Griffin was buying a triplex in the building for around $200 million. Hope you really enjoy that view, guys.