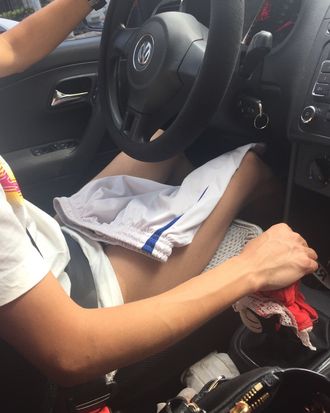 The next time you are aimlessly wandering the block grumbling and looking for your Uber driver, remember it could always be worse: Your driver could show up with nothing but a pair of gym shorts casually tossed over his dick.
Which is a thing that happened this week to a woman in China, Mashable reports. The woman, named Xiaoshang, was midway through her ride when she noticed her driver's nudity. She snapped a quick pic and promptly ended the ride. (Frankly, I wish she'd stopped to ask the driver why he'd decided to use the shorts as a blanket, rather than, um, shorts. But I respect that the question might have felt inappropriate in the moment.)
Following the incident she filed a complaint with the ride-hailing company, Uber competitor Didi Kuaidi. The company's response: Ten yuan ($1.50) and a request that she "calm down." Her driver also followed up with a charming text message, "You have guts! Are you looking for trouble?" He was later arrested and detained for a whole ten days. Presumably with his pants on.