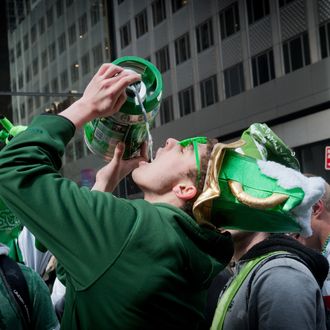 Photo: Bryan Smith/Zuma Press/Corbis
Peeing in public or tossing your soda can on the street may no longer be a criminal offense in New York City. The City Council is set to vote on a bunch of new bills on Wednesday that will reduce penalties for some low-level offenses, including public urination and drinking.
Do not go out and crack open a beer, or start walking on newly seeded city park lawns (yes, it's prohibited) and think you're home free. The series of new bills doesn't decriminalize these offenses, but instead gives NYPD cops discretion in how they handle them. Officers can now issue a civil summons, instead of treating these incidents as criminal offenses. Violators would pay a fine, or do community service, and be referred to the Office of Administrative Tribunals and Hearings (OATH), instead of to the courts.
Cops often do have discretion in these cases, but the City Council bill will make it official, says Politico New York, by forcing the department to come up with specific guidelines for officers to follow. The bill doesn't go far enough for many advocates, who say the prosecution of these offenses disproportionately affects minorities and low-income people. But these bills represent a big compromise with the NYPD — which was anti-decriminalization — and should definitely reduce the backlog in courts, and help prevent nonviolent criminals from getting caught up in the justice system and jailed for minor crimes.
There are eight bills in total in this criminal-justice-reform package. One will knock more than 20 offenses (the grass thing, again) committed in city parks from misdemeanors down to violations. Other bills lay out the specific fines people will pay for these civil penalties; for example, public urination will cost first-time offenders $75; second-time offenders will pay between $250 and $350. Try it a third time in a year, and pay between $350 to $450.
With the NYPD's backing, these reforms should pass City Council. Mayor Bill de Blasio is expected to sign them into law, though the changes won't go in effect until next year.