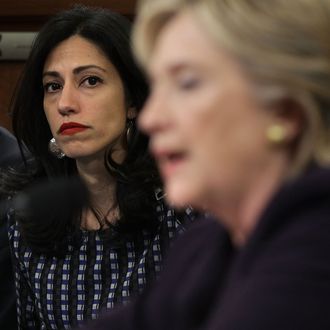 Including Huma Abedin.
Photo: Alex Wong/2015 Getty Images
As the Democratic convention draws nearer, the FBI is working to wrap up its investigation into the likely Democratic nominee's email server. According to CNN, which was informed by "U.S. officials briefed on the investigation," the agency has already interviewed several of Clinton's closest aides, including Huma Abedin, her longtime confidante and the vice-chair of her presidential campaign. And, although the FBI hasn't set a date to interview Clinton, they expect to do so "in the coming weeks." 
The investigation is incomplete, but so far it hasn't turned up any evidence that Clinton willfully broke the law by using a private email server during her time as secretary of State. Once the FBI has finished its probe, which is reportedly "nearing completion," it will pass its findings on to the Justice Department; it'll then be up to prosecutors there to determine whether or not to press charges. 
Until now, the FBI has been "quietly" bringing interviewees to an office "without drawing attention," but it (correctly) assumes Clinton's summons will cause a stir. According to CNN, "The FBI plans to coordinate her interview with her attorneys and security to try to ensure it can be done privately."
Clinton could also be ordered to testify in a separate lawsuit filed by Judicial Watch over her office's alleged failure to comply with FOIA requests. Unless the court files are sealed, that testimony would be public, whereas the contents of the FBI interview will (in theory) remain private.