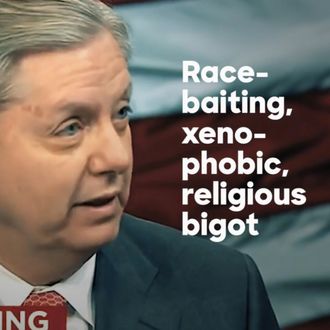 Lindsey Graham reflects on Trump.
That didn't take long. Less than 24 hours after Donald Trump became the Republican Party's presumptive nominee, Hillary Clinton is reminding voters that half of the GOP has declared the Donald an irredeemable monster. Her new ad features a bevy of top conservatives branding Trump as a vulgar, know-nothing, race-baiting, xenophobic, narcissistic con artist with domestic policies that would "lead to recession" and foreign policies that would "make America less safe." Oh, and the dude also loves making fun of disabled people.
Look on your works, ye GOP strategists, and despair.