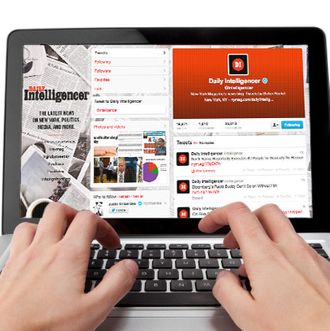 Welcome back, after a brief hiatus, to the New York Magazine Competition. On alternate Mondays (or, this week, Tuesday), we lay out a challenge and offer sample responses. Enter in the comments section or on Twitter with the hashtag we've provided, and the editors will select a winner. Criteria are highly subjective, but heavily retweeted and favorited posts will have an advantage. The prize is a year's subscription to New York in print or a two-year subscription to the iPad edition (winner's choice). Full rules are here.
COMPETITION NO. 70: "MAKE A MOVIE TARDY." In acknowledgment of our recent delays in putting a new Competition up (sorry, folks; there have been some backstage complications that will be ending shortly), please offer a film title altered to suggest lateness. For example:
ROSEMARY'S INDUCED LABOR

STAR WARS: THE FORCE AWAKENS AT 9:30 AND OH MY GOD WE WERE SUPPOSED TO BE THERE BY NOW

HIGH NOONISH

DOG DAY AFTER AFTERNOON
Enter on Twitter with the hashtag #makeamovietardy, or in the comments thread below, by May 20.
RESULTS OF COMPETITION No. 69, "LAST-WORD DEFLATION," in which you were asked for a final-word addition that wrecks a familiar phrase or title.
HONORABLE MENTION TO:
To be or not to be circumcised.
—gianna13
The Man Who Knew Too Much Already
—lessadoabouteverything
"It's not personal, Sonny. It's strictly business jargon."
—tcbaron
Baby Got Back Pain
—bcomcdeezy
Just walk on by, Felicia.
—3North
I have nothing to offer but blood, toil, tears and sweat shirts.
—Periclescrystal
Let them eat cake pops!
—thegreatdane
One day, we will spend our sunset years telling our children and our children's children what it was once like in the United States where men were free balling.
—bird.dog
Dr. Livingstone, I presume nothing.
—ZenQuixote
Let us go then, you and I,
When the evening is spread out against the sky
Like a patient etherized upon a table saw…
—fredjack
What fresh hell is this election?
—onvacation
Ethnic cleansing lotion
—KathleenS
The journey of a thousand miles begins with one step class.
—rgqueen
… it is a tale told by an idiot, full of sound and fury, signifying nothing presidential.
—BobKopac
Was this the face that launch'd a thousand ships,
And burnt the topless towers of Ilium?
Sweet Helen, make me immortal with a kiss-off!
—BENLINUS99
Quoth the raven, "Nevermore, hardly."
—RustyShackelford
The unbearable lightness of being cremated.
—rmtmiller
It's a Mad Mad Mad Mad World Almanac
—jnj6404
We're not in Kansas anymore, thankfully.
—Lexxman
What's in your wallet? Freeze!
—j_son
You had me at hello, dipshit.
—ghoslin
The Young and the Restless Leg Syndrome
—flolink
One nation under God, indivisible, with liberty and justice for all parakeets.
—benji
AND THE WINNER IS: 

Call me Ishmael McSailordork.
—MiddleCoastDan