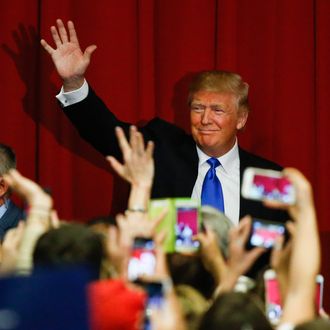 Donald Trump would be justified in taking conservative Republicans for granted.
Photo: Eduardo Munoz Alvarez/Getty Images
Of all the potential problems Donald Trump faces in a general-election campaign against Hillary Clinton (and there are many), one that seems to be fading very rapidly is the threat of defections by conservative Republican voters incensed by the mogul's deviations from conservative orthodoxy. Yes, opinion-leaders like Erick Erickson, Tony Perkins, and some of the Club for Growth crowd are not onboard and may never be. But the #NeverTrump campaign seems to have definitively failed when it comes to rank-and-file sentiment, and the slow-walking (or perhaps crawling) of former Trump-haters on the right will probably follow.
It's perilous to rely too much on any one poll, but sometimes the numbers are so overwhelming they resolve basic questions. In the new national ABC–Washington Post survey released Sunday, self-identified "conservative Republicans" favor Donald Trump over Hillary Clinton by a nearly unanimous 92-3 margin. What makes that most interesting is that 22 percent of the same category of voters do not think Trump is even "qualified" to be president. It does not seem to matter. This shows the impact not just of the abstract idea we call "partisan polarization," but the consequences of decades of conservative-media demonization of Hillary Clinton.
Is there any Republican nominee imaginable that the right would not embrace against Clinton? Probably not. But the speed with which conservative Republican voters have repudiated the much-publicized opinions of their leaders about Trump is amazing. Four months ago yesterday, the venerable tribune of the conservative movement, National Review, published a special issue attacking Trump as unacceptable on ideological, moral, and strategic grounds. Now over 90 percent of the people presumably in National Review's orbit are already reconciled to the man. What a disaster for conservatism! Aside from the obvious implications of this development, Trump will from this point on be entirely justified in paying little attention to his right flank. He may throw movement conservatives a bone or two now and then for the sake of enthusiasm and party harmonics. But it sure looks like he can take these routinely demanding people for granted.