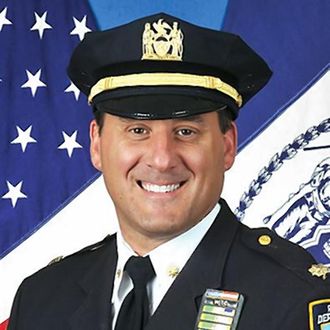 Michael Ameri was found dead in his car at a Long Island golf course Friday afternoon.
Photo: NYPD
Michael Ameri, an NYPD deputy inspector who'd been questioned as part of the ongoing NYPD corruption probe, committed suicide Friday afternoon outside a Suffolk County golf course. Ameri, 44, was found dead in his car in the course's parking lot, where he shot himself in the head, according to police. DNAinfo reports that it's believed he used his service revolver.
Ameri was reportedly friendly with Jeremy Reichberg, one of the two businessmen suspected of offering cash and gifts to cops in exchange for favors. Ameri had been questioned as part of the joint NYPD and FBI investigation, but it's not clear if he was a target of the probe, and he had not been disciplined. Ameri reportedly was suspected of giving police escorts to Reichberg and his friends, and sources tell DNAinfo that yesterday NYPD internal affairs pulled two years' worth of escort records. A source told the Daily News that the FBI went to Ameri's house earlier Friday to interview him, and he drove to the golf course when they left.
Such escorts aren't uncommon, according to a source who spoke with DNAinfo. "I don't understand why anyone would commit suicide over this," the source said. "We escort all the time. It's a courtesy we do all the time. It's no reason to kill yourself."
Ameri, who joined the NYPD in 1993, had led the NYPD's Highway Division since 2014. Prior to that, he'd served as the commander of the 78th precinct.