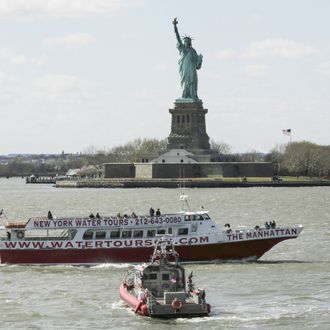 When buying ferry tickets to the Statue of Liberty, always be sure the ferry will actually stop at the Statue of Liberty.
Photo: Kena Betancur/AFP/Getty Images
A visit to the Statue of Liberty is on the itinerary of many New York City tourists, but cops say some vendors selling ferry tickets in Battery Park were actually offering a different kind of classic New York experience: getting tricked by a scam artist on the street. Undercover NYPD officers posing as tourists Wednesday busted more than a dozen people they say were selling tickets for what they claimed was a ferry to the Statue of Liberty, but turned out to be for a boat that merely circled New York Harbor.
It wasn't a particularly complicated scheme: The alleged scammers worked for companies contracted to sell tickets for boat operators that give tours of New York Harbor. Cops say the sellers would prey on tourists by telling them that the tickets they were buying were for ferries that would stop at the Statue of Liberty and Ellis Island. The tickets were, in fact, legitimate boat tickets — but they were for ones that merely circled New York Harbor without making any stops. In reality, the only place in Battery Park to buy a ferry ticket to the Statue of Liberty is at Castle Clinton, so the ticket sellers would lie to potential buyers and tell them that tickets there were sold out but that the other boat could take them there.
Cops say that some of the ticket vendors arrested were on parole for serious crimes. Said John J. Miller, deputy police commissioner for intelligence and counterterrorism: "What the investigation revealed was, you had a large number of people who were on parole or on probation, mostly parolees for serious crimes, including assault, narcotics and robbery, who made up the bulk of the ticket sellers, which began to explain part of the background of this pattern of criminal activity involved in the ticket sales."
Fourteen vendors were arrested during Wednesday's raid, and the NYPD has warrants for seven more people they're still searching for.