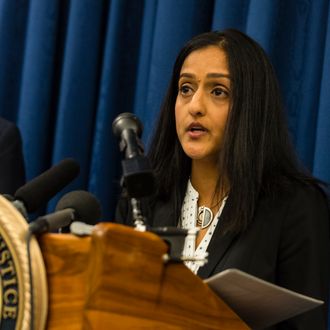 Principal Deputy Assistant Attorney General Vanita Gupta lays down the law.
Photo: Angelo Merendino/2014 Getty Images
Six decades after the U.S. Supreme Court ruled in Brown v. Board of Education that "separate but equal has no place" in public schools, the Cleveland School District in Cleveland, Mississippi, will finally desegregate its public schools. According to Reuters, black and white students have been separated into two different high schools — one mostly white and the other mostly black — for the entirety of the district's 100-year history. But on Monday, a federal court ordered that the schools be consolidated, ending its dual system.
"The delay in desegregation has deprived generations of students of the constitutionally-guaranteed right of an integrated education," read the court's opinion. "Although no court order can right these wrongs, it is the duty of the district to ensure that not one more student suffers under this burden." The decision is based on testimony from both black and white residents, who agreed that for the most part, white students went to better schools.
Vanita Gupta, who heads the Justice Department's Civil Rights Division, told Reuters that the decision, "Serves as a reminder to districts that delaying desegregation obligations is both unacceptable and unconstitutional."