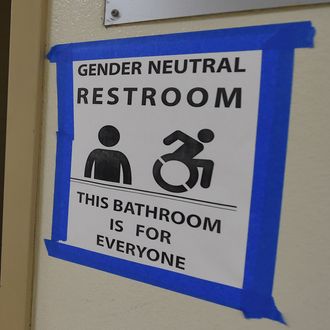 "Whichever."
Photo: MARK RALSTON/This content is subject to copyright.
Last month, an appeals court ruled in favor of Gavin Grimm, a 16-year-old transgender student whose high school in Gloucester, Virginia, barred him from using the boy's bathroom after complaints from religious groups. The ruling marked the first time a federal appellate recognized the protection of transgender individuals under Title IX — a law that forbids federally funded institutions from sex-based discrimination.
As such, it was a groundbreaking decision; Joshua Block, a lawyer with the American Civil Liberties Union, which argued the case on Grimm's behalf, told the New York Times that, "With this decision, we hope that schools and legislators will finally get the message that excluding transgender kids from the restrooms is unlawful sex discrimination."
But change is slow to take root, and despite the appeals court ruling in Grimm's favor, his school asked the U.S. Fourth Circuit Court of Appeals to review the decision, which was made by a three-judge panel. On Tuesday, the school board's request was denied, Reuters reports, meaning Grimm is legally entitled to use the boy's restroom.
"Now that the Fourth Circuit's decision is final, I hope my school board will finally do the right thing and let me go back to using the boys' restroom again," Grimm said in a statement.
His case is seen as a touchstone for recent controversial laws that mandate individuals must use the bathroom that corresponds to the gender on their birth certificate. North Carolina governor Pat McCrory has spoken out against the ruling, saying he disagrees with the court's attempt "to force our high schools to allow boys in girls' restrooms, locker rooms or shower facilities." 
But the Justice Department, which issued its own set of guidelines designed to prevent transgender discrimination in public schools, said it was "pleased" with the court's decision, which "agreed with the position that the United States advocated." The Obama administration itself is facing a fat lawsuit over said guidelines, which states claim interpret Title IX in a way that goes beyond its original intention.
In this case and others, the interpretation of Title IX is the main point of contention. As Attorney General Loretta Lynch said in a speech earlier this month, the legal scuffle over who can use which bathroom is "about a great deal more … This is about the dignity and respect we accord our fellow citizens and the laws that we, as a people and as a country, have enacted to protect them."