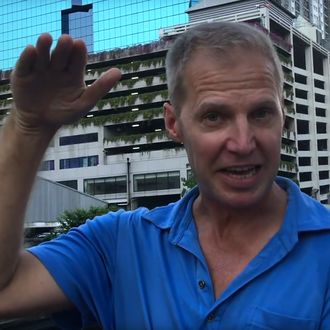 Paul Salo wants to raise $1.5 million (though he'll settle for $300,000) to purchase a condemned skyscraper and a plane, fly said plane directly into said skyscraper, and "prove 9/11 to be true or false once and for all." Does this sound insane, not to mention incredibly insensitive? Yes? Good. It is.
Crowdfunding website Indiegogo appears to think so, too. The platform terminated Salo's "September 11th Redux" fundraising campaign on Wednesday, a move Salo calls "very underhanded."
"To be clear, I'm not a conspiracy theorist," Salo explained in blog post on his website responding to the Indiegogo incident. "But aspects of the disaster are certainly tantalizing enough to want to see it recreated." But apparently not so tantalizing that Salo wanted to put in the effort to truly re-create the horrific events of 9/11. As noted by The Daily Dot, Salo's plan involved buying a 767, not a 747, and finding a building that was just "World Trade Center-like."
Prior to getting shut down, Salo labeled his project "Mythbusters for September 11th." Donation tiers included T-shirts for $125, pieces of rubble from the demolitions for $1,000, or a $5,000 front-row seat to the event.
As of Wednesday, only 19 people had donated a total of $441 dollars, a far cry from the goal of $1.5 million. On YouTube, Salo writes he is still accepting donations and that he has recently "received interest from several large donors wanting to cover a significant percentage of our total goal. They are also very passionate and wanting this to succeed." Sure, Paul.