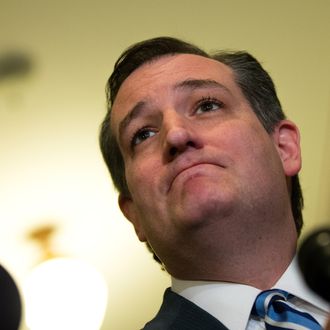 The face of regret.
Photo: Drew Angerer/2016 Getty Images
Ted Cruz will not be galloping in on a third-party platform to save skittish Republicans from Donald Trump. On Tuesday afternoon, Cruz spoke to a mob of political reporters outside his Senate office to clear up a statement he'd made earlier that day on Glenn Beck's radio program. "We launched this campaign intending to win," he told Beck at the time. "The reason we suspended our campaign was that with the Indiana loss, I felt there was no path to victory. If that changes, we will certainly respond accordingly."
To many, that was Cruz hinting that his dearly departed campaign might be revived. But Cruz said otherwise. "We have suspended the campaign because I can see no viable path to victory," he told reporters. "Of course, if that changed, we would reconsider. But let's be clear: We're not going to win Nebraska."
When asked if he'd consider a third-party bid, Cruz was less evasive: "I have no interest in a third-party bid," he said, and left it at that.
So what will he do now that he's back in the Senate? "I'm going to continue fighting for the American people," he said, overlooking the fact that the American people are the reason he's no longer running for president. "And if fighting for the American people makes you an outsider in the Senate, then I will happily remain an outsider. Because at least to date, Congress, both parties, both houses, far too often haven't been listening to the American people."