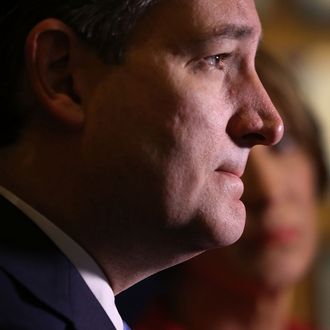 For whatever reason, Ted Cruz is losing altitude nationally as well as in Indiana.
Photo: Joe Raedle/Getty Images
With the Indiana primary on the immediate horizon, those with a betting or political interest in the success or failure of Ted Cruz tomorrow are abuzz over all sorts of vague but menacing reports that Hoosier Republicans ain't buying what the Texan is selling. The last two polls from Indiana (from NBC/WSJ/Marist and from Gravis Marketing) have both shown Trump's lead blossoming into double digits. That's alarming for Team Cruz given the state's winner-take-most delegate-allocation system that awards three delegates to each congressional district plurality winner and another 30 to the statewide winner. A Trump delegate blowout would put the mogul well over 1,000 delegates and make stopping him below 1,237 a dicey proposition. 
But aside from the situation in Indiana, Cruz's overall position in public opinion seems to be deteriorating suddenly and dramatically. Gallup's daily tracking poll of 2016 presidential candidates' favorable and unfavorable ratings shows Cruz's ratio changing from an average of 51-38 on the week ending April 22 to 41-43 on the week ending April 28. On the latter week Trump was at 57-37, and Kasich was at 48-29 — pretty much where they've been for a while. So the dynamic candidacy is Cruz's, and not in a good way. 
It's unclear why exactly this is happening to Cruz at exactly the worst possible moment. But it is clear that his "deal" with Kasich and his partnership with Carly Fiorina don't seem to be doing any magic nationally or in Indiana. If he has any other tricks up his sleeve, now would be a good time to deploy them before Trump seals the deal.