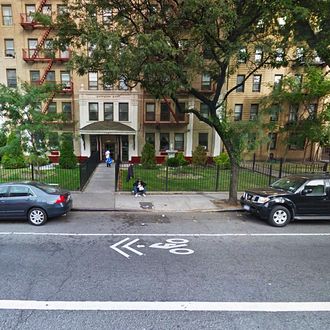 It's legal to park in front of a ramp like the one seen above, but it seems many NYPD officers didn't know the rule.
Photo: Google
Drivers in New York City might not have noticed when, in 2009, an obscure parking rule was changed, allowing cars to park in front of pedestrian ramps if they're not connected to crosswalks. But after getting tickets for parking in such spots on his Brooklyn block (and subsequently getting them dismissed), I Quant NY writer Ben Wellington decided to dig into NYPD data to see how often such violations were issued, figuring he couldn't be the only one who had to keep going through the process of fighting the tickets. It turns out he was not: Cops had issued thousands of tickets for this specific violation worth more than $1 million in the past two and a half years — even though, Wellington found, most of the cars in question were actually parked legally.
New York City's Open Data portal includes detailed information about parking tickets, and Wellington was first able to find the spot where the most tickets for this violation had been issued: a space in Brooklyn where $48,000 worth of tickets had been written over the past two and a half years. But a check of Google Maps showed that the space in question indeed looked totally legal. He continued down the list: The second-most-ticketed spot appeared to be a legal parking space as well, and so did the third, and the fourth. At random, he picked 30 more spots with at least five tickets, and they all appeared legal, too.
Wellington found that 1,966 spots had received at least five pedestrian-ramp tickets over the past two and a half years, generating about $1.7 million dollars a year at what he says are mostly legal parking spots. Wrote Wellington: "Are all 1966 spots legal? Surely not, but the majority sure are and many more that have fewer than five tickets are likely legal too."
Wellington's story has an encouraging ending: Armed with his findings from the department's own data set, he reached out to the NYPD and was told that, yep, officers had been screwing up. "It appears to be a misunderstanding by officers on patrol of a recent, abstruse change in the parking rules," read part of the quote he was sent a couple of weeks later by the NYPD. "We appreciate Mr. Wellington bringing this anomaly to our attention." The quote went on to explain that when the rule changed, the department focused on training traffic agents about it, but the majority of the tickets in question were written by police officers. And so, as a result of Wellington's letter, the NYPD reached out to the commanders of the precincts with the highest numbers of summonses, and informed them of the issues within their command so further tickets wouldn't be issued.
Wrote Wellington of that response: "I was speechless. THIS is what the future of government could look like one day. THIS is what Open Data is all about."