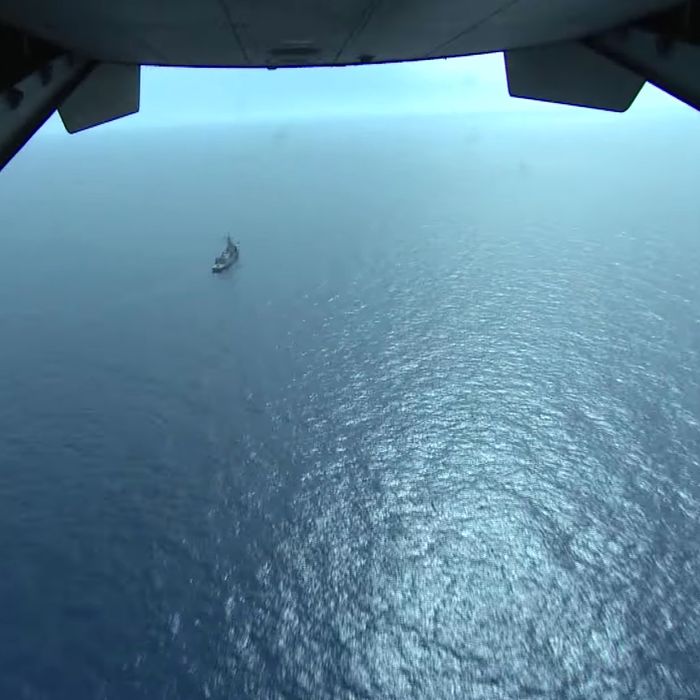 Searching for MS804 wreckage.
Photo: Egyptian Armed Forces/YouTube
The Latest
The Disappearance
EgyptAir Flight MS804 took off from Paris's Charles de Gaulle Airport early Thursday morning, bound for Cairo, Egypt. A total of 66 people were aboard the jet, an Airbus 320, including both crew and passengers. The plane was at cruising altitude over the Mediterranean Sea when it lost contact with ground crews just as the airliner entered Egypt's airspace around 2:30 a.m. local time. Greek officials detailed the plane's final moments, saying before the jet disappeared it made "sudden swerves" and steeply dropped "like a rock" from cruising altitude, at 37,000 feet to 15,000 feet. The jet's last signal came at 10,000 feet. No one survived the crash.
The Search
After a few false reports Thursday, Greek officials have confirmed they've recovered debris believed to be from EgyptAir Flight MS804. An Egyptian search team also found "body parts," an airplane seat, and suitcases floating in the waters of the Mediterranean Sea, around 180 miles north of Alexandria, on Egypt's coast. An Egyptian military spokesperson said that this time "there is no doubt" the debris belongs to the missing jet, on Saturday the military released images and video of what they had found, including life vests, seat and carpet fragments, passengers' personal items, and fuselage bearing the EgyptAir logo.
According to the Guardian, search teams retrieved the wreckage about ten miles from the "last known point" of Flight MS804.
Satellite imagery from the European Space Agency has potentially detected an oil slick in the Mediterranean Sea about 25 miles from where the EgyptAir jet last made contact, though the fuel is drifting in the current. The slick is close to 1.25 miles wide, though ESA can't confirm with certainty that this belongs to the airliner. 
Vessels and aircraft are scouring a 900-square-mile area of the Mediterranean in an attempt to find more wreckage and the all-important black boxes, which will ultimately clue authorities into what caused the plane to veer violently and crash. As of yet, search teams have not been able to locate the main body of the plane. Six countries, including Greece, France, Britain, and the U.S., are assisting in the Egypt-led search.
The plane's black boxes emit acoustic beacons, or pings, that should show up on sonar, but the batteries powering the signals will only last about 30 days. The ocean can reach depths of about 3,000 meters in the area where the plane went down, and is also subject to strong currents, but the black boxes can emit their signals from as deep as 6,000 meters.
A French Navy vessel is expected to arrive Sunday or Monday, and Egyptian President Abdel Fattah el-Sisi said on Sunday that a submarine from the country's oil ministry has also been deployed to join the hunt, and would be able to reach a depth of 3,000 meters if necessary.
What Happened?
It's still all speculation at this point. According to the AP, French officials said Saturday that "all the hypotheses are being examined," while Egyptian officials have said terrorism is a far more likely explanation than a technical failure, though Egypt's president warned that it will take time to determine exactly what happened. Greek officials have stopped short of calling it an attack, but did say a mechanical problem didn't seem probable based on what they know so far. Athanassios Binis, the chief of Greece's Air Accident Investigation and Aviation Safety Board, told the Times that "even if the plane had lost both engines, it would still glide farther" than evidence shows. (Weather is highly unlikely, as the skies were clear and calm.)
U.S. officials have speculated that a bomb downed the airliner as "many signs do point to terrorism," though it's not clear when an explosive could have been smuggled onboard. Contradicting these suspicions, a ranking member of the U.S. House Intelligence Committee said on Sunday that the evidence he had seen indicated terrorism was less likely than had been otherwise suggested, though it remained possible that an attack could have been carried out by a lone actor:
The Aviation Herald reported Friday, and NBC News confirmed, that data sent from the plane to ground control shows that multiple smoke detectors, including in one of the plane's lavatories near the cockpit, went off prior to the plane disappearing from radar, which points to a possible fire onboard (but also could have indicated fog forming in the plane as a result of it losing air pressure). Aviation expert David Learmount believes the smoke alarms suggest to a quick spreading fire, either from some kind of electrical fault, or from an incendiary device. According to the AP, alarms also went off regarding the plane's autopilot and wing control systems, indicating serious structural problems.
No one on the passenger list raised red flags on any watch lists, according to recent reports. French officials are currently questioning baggage handlers, maintenance workers, and other members of the ground crew that may have come into contact with Flight MS804 before its departure. The plane did make stopovers in the 24 hours before it took off from Paris, including in Tunisia, Eritrea, and Cairo. CNN reports that flight crews conducted a routine maintenance check in Cairo before the plane flew to Paris for what would be its last takeoff.
No terrorist group has claimed responsibility so far for the plane crash. A terror analyst told the Associated Press that ISIS, on the day of the crash, released a video where they declared their plans to take over India, and the extremists probably wouldn't have missed the opportunity to brag about downing a passenger jet. In the past, ISIS and other jihadist groups like Al Qaeda usually haven't waited too long before taking credit for an attack of this kind; this October, ISIS chatter had boasted about blowing up a Russian jet over Egypt's Sinai Peninsula almost immediately after the crash. A Saturday statement from ISIS did not mention the crash.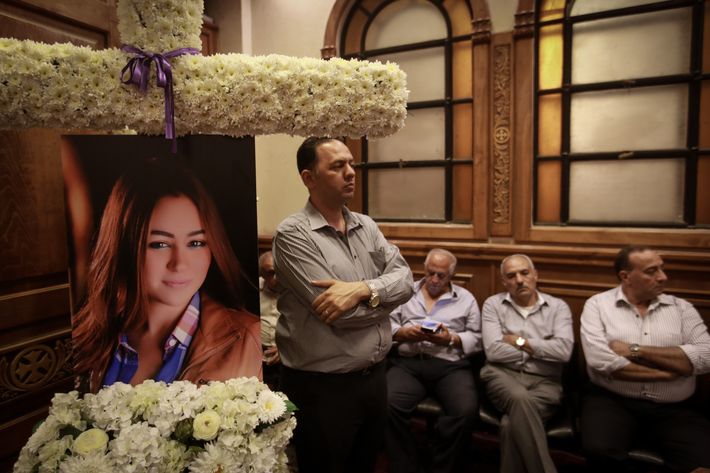 The Victims
According to EgyptAir, a total of 56 passengers and ten crew members were killed when the plane went down, including 30 Egyptians, 15 French, 2 Iraqis, and individuals from nine other countries. No Americans were aboard the flight. Egyptian officials have told family members of the victims that it may take weeks to perform the DNA analysis necessary to identify any remains they recover.
Among the dead: Pascal Hess, 51, was a French photographer who almost canceled his flight because he lost his passport. He found it at the last minute and made the flight. Richard Osman was a geologist from Wales and father of two. A Lebanese film director lost four members of his extended family on the flight. At least three children took off with the jet Thursday, including two infants.
The Egyptian victims include six people who all came from a single village north of Cairo, Mit Badr Halawa, that has such a strong tradition of sending men to France in search of work that it has earned the nickname "Mit Paris." Among those killed were the owner of a construction company and his two year old daughter, a doctor and his wife who had traveled to Paris so that the wife could receive cancer treatment, and a 32-year-old telecommunications engineer.
EgyptAir released the names of the pilots steering the jet on Thursday. The pilot, 36-year-old Mohamed Saeed Shaqeer, and co-pilot Mohamed Ahmed Mamdouh, 24, had both passed background checks and didn't have any known political or extremist ties. The Daily Mail said the pilot Shaqueer had been promoted just four days before the crash. An anonymous official at Cairo airport called the idea that he could have crashed the plane on purpose "preposterous."
This post has been updated throughout to reflect new details about the crash and search.