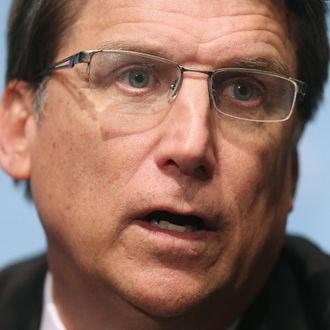 North Carolina Governor Pat McCrory.
Photo: Chip Somodevilla/Getty Images
The Justice Department has notified North Carolina governor Pat McCrory that his anti-transgender "bathroom bill" violates Title VII of the Civil Rights Act. The department has given McCrory until Monday to confirm that the Tar Heel State "will not comply with or implement" the law, the Charlotte Observer reports.
Formally known as House Bill 2, the controversial law allows businesses to require transgender people to use the bathroom that matches their biological sex, as established on their birth certificates. It also prohibits municipal governments in the state from enacting contradictory anti-discrimination policies. The measure has inspired vocal opposition for LGBT advocates, a variety of corporations and industries, and even Donald J. Trump.
On Wednesday, the Justice Department officially determined that denying transgender employees the right to use their preferred bathroom in the workplace constitutes a violation of Title VII's prohibition against "discrimination on the of the basis of sex." 
"Access to sex-segregated restrooms and other workplace facilities consistent with gender identity is a term, condition or privilege of employment," DOJ wrote in its letter to McCrory. "Denying such access to transgender individuals, whose gender identity is different from the gender assigned at birth, while affording it to similarly situated non-transgender employees, violates Title VII."
If the state refuses to comply with the Justice Department's order — and if that order survives legal challenge — the federal government could withhold millions in federal funding from North Carolina schools, the Observer reports.
You'd think that a purple state Republican governor up for reelection in the fall wouldn't be eager to sacrifice his public system on the altar of transphobia. But McCrory has already proved himself willing to sacrifice hundreds of jobs in order to solve a problem that doesn't exist so, who knows?