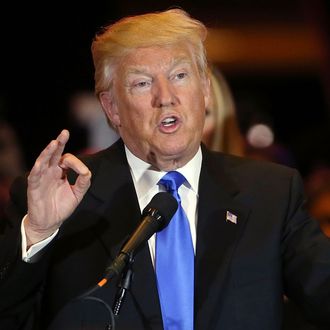 "We're gonna send George Will to the best gulag. Tremendous. No one will have better gulags."
Photo: Spencer Platt/Getty Images
In his first major interview since securing the Republican nomination, Donald Trump said Hillary Clinton deserves to "suffer," Muslim migrants are "destroying Europe," and his biggest Republican haters can re-join the party when he's no longer president … in 16 years.


"I don't think it's imperative that the entire party come together," Trump told MSNBC's Morning Joe on Wednesday. "I don't want everybody. I don't even want certain people who were extraordinarily nasty. Let them wait eight years. Or let them wait 16 years or whatever."
The hosts did not press Trump on why he revised that "wait time" upward. Maybe he thinks that #NeverTrumpers hate him so much, they won't want to re-join the party until after future Vice-President Chris Christie completes his second term. But it's also worth noting that in 16 years Trump will be 85, which is a perfectly respectable age for a supreme leader to call it quits.
As for whom Trump doesn't want in his party, Washington Post columnist George Will is at the top of Donald's list.
"George is a major loser," Trump said. "He's a dour guy. Nobody watches him. Very few people listen to him. It's over for him, and I never want his support." Trump then suggested that Will's true problem with him is personal, not political.
"You know, I had a run-in with him when I was in civilian life," Trump said. "I didn't wanna go to one of his speeches at Mar-a-Lago. He made a speech at Mar-a-Lago, and I find him to be a very boring person. You know, he's boring and dull, and I didn't go to the speech … I said I just don't wanna go, and he wanted me to go. And I just, you know, it was one of those things."
Later in the interview, Trump reaffirmed his support for banning Muslims from entering the country until "we figure out what's going on."
"If you look at what's happening all over Europe with the migration, it's terrible what they've done to some of these countries," Trump said. "I mean, they're destroying Europe!"
The GOP nominee was no less vitriolic when discussing his likely fall opponent.
"She should not be allowed to run in the election," Trump said, referring to Clinton's use of a private email server while secretary of State. "She should suffer like other people have suffered who have done far less than she has."
It could be a very long 16 years.