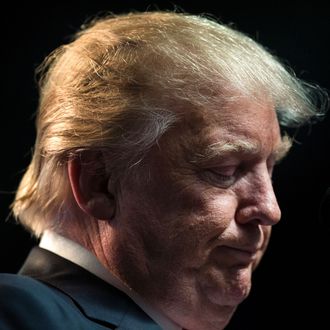 On the plus side, the Donald's 'do looks bug-free.
Photo: BRENDAN SMIALOWSKI/This content is subject to copyright.
Donald Trump is the presumptive Republican nominee, yet he still manages to be unpopular with the majority of American voters. FiveThirtyEight has reported that Trump is "historically disliked," but according to a new poll from Public Policy Polling, Trump is less popular with registered voters than literal insects that live on the human scalp and feast exclusively on blood. In fact, in response to the question, "What do you have a higher opinion of, Donald Trump or lice?" 54 percent of respondents answered, "Lice." 
But it's not just head lice — voters also have higher opinions of traffic jams, used-car salesmen, hipsters, the DMV, jury duty, Nickelback, and root canals than they do of Trump (although to be fair, he's only losing to Nickelback, used-car salesmen, and hipsters by single digits). And Trump is actually viewed more favorably than cockroaches and hemorrhoids at 46 to 42 percent and 45 to 39 percent, respectively.
However, that distinction disappears when voters are cordoned off by gender; amongst women, Trump is less favorable than both cockroaches and hemorrhoids by five and four points, respectively. This news might seem trivial on its own, but Trump has had a notably hard time winning over women voters, and as of last month, he was viewed unfavorably by 70 percent of women, according to Gallup. His gender gap is larger than any other candidate's.
Trump's numbers are bad, but the two Democratic candidates don't exactly have the best favorability ratings, either. The PPP poll notes that both Hillary Clinton and Bernie Sanders are seen as "unfavorable"; Sanders has a three-point setback while Clinton's favorability is down 19 points. Interestingly, however, Democrats polled said they would be more comfortable with Clinton as a potential nominee than with Sanders.