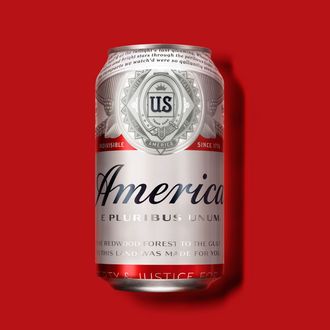 Make Budweiser America Again.
Budweiser has rebranded its beer "America" for the summer. Donald Trump has frequently used the word America while campaigning for the nation's presidency. Some journalists would dismiss these parallel developments as a mere coincidence, but not Fox News' Steve Doocy. Given the opportunity to interrogate a man applying for the most powerful office in the world, Doocy made sure to grill Trump about his role in shaping domestic beer-label policy.
"Mr. Trump, do you think you had something to do with Budweiser changing the name of their beer over the summer?" the intrepid reporter inquired.
"I think so," the presidential candidate confessed. "They're so impressed with what our country will become that they decided to do this before the fact."
The Donald has made America into a sour, mass-produced intoxicant that increases human beings' propensity for violence while helping them forget everything they hate about their lives. Our country is finally great again.