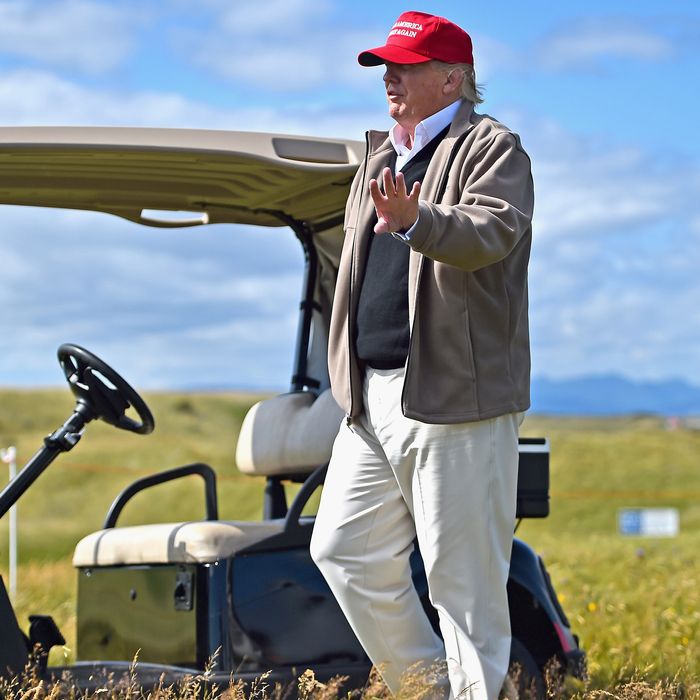 Climate deranged.
Photo: Jeff J Mitchell/Getty Images
Noam Chomsky, the celebrated linguist and left-wing political theorist, was recently asked to contemplate the consequences of a Trump presidency.
"Well, first we have to ask if he means what he's saying," the elderly intellectual replied. "If he does … the human species is in very deep trouble."
Chomsky paused, and his audience had a moment to wonder which Trump gaffe had so galled the patron saint of the American left: Was it his plan to "take out" terrorists' families? Or the full-throated defense of military torture? The Donald's praise for punching protesters? Or that loose talk about using nukes?
As it happened, the MIT professor wasn't primarily concerned by all the utterances that make Trump a unique figure in American politics; rather, he was most troubled by a statement that makes him all too typical.
"The effects of global warming are already extremely severe," Chomsky said. "He simply says, 'It's not happening. So, I'm not going to do anything about it.'"
There are a lot of insane beliefs that could shape Donald Trump's four to eight years of governance. But only a few have the potential to trigger literally apocalyptic consequences — the idea that climate change is a hoax invented by the Chinese is one.
Trump has vowed to "renegotiate" the Paris climate deal, presumably to reflect his belief that the Earth is quite possibly "going to start to cool at some point." The Paris agreement is our great-grandkids' last, best hope to avoid seeing the end times. And its goals can't be achieved without U.S. cooperation. Thus, humanity's fate may depend on the Donald being a bald-faced liar when it comes to his true beliefs about the climate.
On Monday, Politico gave the world some cause for comfort: Trump appears to believe that the climate really is changing — in Ireland, anyway. According to a permit application obtained by the news site, the mogul wants to build a seawall to protect Trump International Golf Links Ireland from "global warming and its effects."
But if Trump does believe in global warming, why has he denied its reality with such uncharacteristic consistency? Climate change isn't merely a concern for anarcho-syndicalists and anti-Trump bloggers. The past year of record temperatures has moved the needle on American public opinion: A recent Gallup poll found U.S. concern with global warming is at an eight-year high, with 64 percent of Americans saying they are worried a "great deal" or "a fair amount" about the changing climate.
The Donald has vacillated wildly on matters of taxation, abortion, and the minimum wage. On trade, entitlements, and foreign policy, he has proven himself more than willing to abandon GOP orthodoxy for political expediency. And yet Trump has maintained a position of hard-line climate-change denial for all 11 months of his campaign — despite the fact that he has been less dependent on oil-industry donors than any Republican nominee in recent memory.
Obviously, the best-case scenario here is that Trump loses in a landslide this November, realizes he's been worshipping the false god of his own ego for 69 years, donates all of his wealth to the global poor, and then wanders barefoot into the woods never to be heard from again.
But, just in case America is less ready for Hillary than it is for proto-fascism, let's pray that the Donald doesn't mean what he says.